View Poll Results: Which Design Should I lean towards
Image 1
0
0%
Image 2
0
0%
Image 3
2
100.00%
I don't care
0
0%
Voters: 2. You may not vote on this poll
98 CBR F3 Project Bike (SSSA, Car Rim, R1 Tail, F4i front)
03-29-2011, 01:07 PM
98 CBR F3 Project Bike (SSSA, Car Rim, YZF-R1 Tail & Exhaust, F4i front)
---
UPDATE September 5th, 2013.
Here is a concept for the side cover and updated graphics i'm working on now. I have a poll at the top relating to the images below. Im looking for some feedback.
UPDATE May 09, 2013.
Some people were curious about the build pictures that went missing. I just spent the past hour updating all the pictures... what a pain, but it's done!
Apparently facebook changed their share privileges. Anyhow, here are a couple links to my albums. I'm sure this wont be the last time I will have to do this.
----------------------------------------------------
Well, this is going to be the start of a very long set of posts.
I bought the 98 f3 last year, and was thinking of selling it this year. Figuring it was my first bike, and i would likely not get the full amount i paid for it back, I am going to strip the bike down and do some pretty typical stuff to it.
Where this will differ is that I will be doing time-lapse video of the entire process. Of course, over the months i've gotten some information on what i want to do mod wise, but like ALWAYS, there just isn't information. I'm hoping that this will help people do similar mods in the future to this great bike. I will be documenting my costs on this, as i expect it to not be a cheap project. I am very handy so i am choosing to do most of the work myself with exception the welding and some fab work that i need to get done.
So, to start, i have a stock CBR 600 F3. It's in great condition, a little heavy on the mileage (22,000 km or around there).
The proposed mods are as such:
F3 => F4i front fairing conversion (f4i gauge, headlight, fairing)
F3 => 04' R1 tail conversion with full undertail (Upper, lower + light)
F3 => VFR 750 single sided swing arm
Rear Car wheel conversion (Dunlop 200 17 55) with an Aisan Dragon 17x7 rim (4x100mm pattern)
Custom paint job
The paint job will resemble something like this (my current lid) with a pearl white base, maybe with a blue interup.
or
or
My jacket is also white and black. So the bike will follow the same kind of scheme.
CBRRRT on a couple different forums has been really helpful. He did this mod to his fireblade and i've taken some of his pointers for my own
Car wheel conversion
Of course, VALKIE on this forum was the basis for the mod in the first place with his CBR F3 conversion.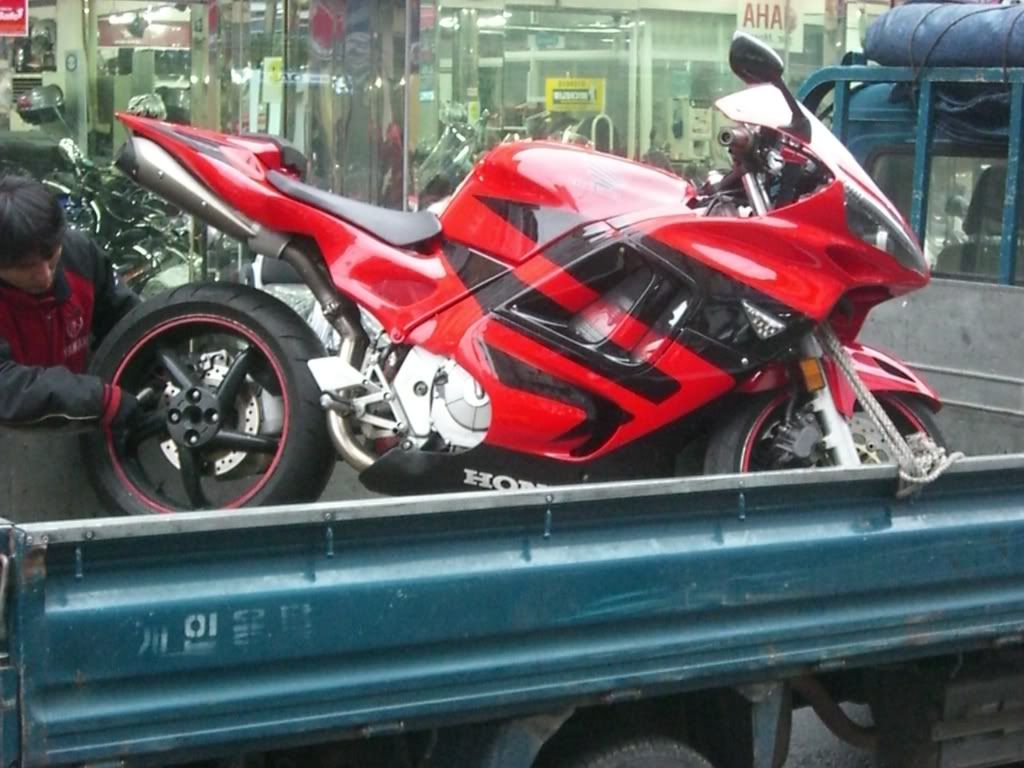 My jacket is also white and black. So the bike will follow the same kind of scheme.
I had wanted to start this a little earlier in the year to take advantage of the cold season, but getting a vfr sssa was hard. I managed to find one in Alberta Canada for 500.
Given that it's the only one i could find, I label that as being a tolerable cost. I'm in Ontario, so shipping was cheap anyhow. I've had mixed success in finding f4i parts. I've gone to stuntlife and a couple other crb forums to find the parts. I almost had everything in one shot, but some ***** on stuntlife sold the parts from under me to some local guy.
So now i'm out scrounging for bits and pieces. I have a F4i shock and front left and V fairing coming in, just got a beat up right fairing from a local guy, and a bunch of stuff coming from ebay (upper/lower stay, gauges). I've been in touch with some r1 guys who are selling their stuff, so it's just a matter of getting it.
Some main points of the SSSA mod are such:
With certain years, the VFR SSSA may not fit. I've read that the 800 is not suitable for an f3, not without a degree of adjustments. The better years are the 93-95 VFR 750 swing arms info: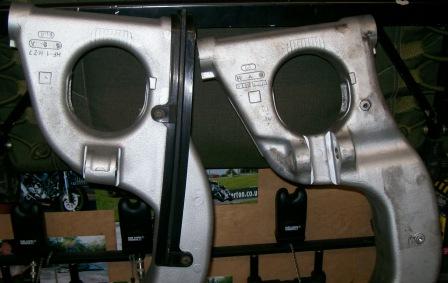 Fireblade forum - thanks CBRRRT
There is a spacer that needs to be made to fit to the right of the swing arm. Of course it is dependent on lining up the front and rear sprockets. The 7" car rim will require a degree of space away from the VFR swing arm, and an additional hub spacer will be required to center the wheel on the swing arm. Also, because the f3 has a different shock assembly and length than the OEM VFR shock, I will need to weld a new shock mount on top of the swing arm.
I have yet to determine if this is actually the case, as anyone who has done this mod has not posted pictures of the mounting or described the fabrication process. It will require some initial measurements and calculating the degree of shock travel. One concern i have is that with the under tail exhaust, it will require the tail or the sub frame be raised a bit to allow for ample mounting space. Hence the f4i shock.
The shocks are essentially the same but the f4i is a little taller. This should give me enough room to get the r1 tail/exhaust mounted. I've heard the f3's shock is on the low side. so this may help out a bit. The rim may also require some work when it comes to mounting the 200 17 tire.
I'm going to contact a couple guys to see about mounting and some fab work. Tomorrow is monday, hopefully the SSSA will arrive this week and i can start getting some prep work underway. Friday is my birthday, I'll be dropping into a couple places to get some fabrication quotes. I need to set up my shop and get some fiberglass and bondo to do some repairs on the fairing i got (has a big crack on the top, not all the way, so it's repairable).
This was a long post, but next week will really set the pace up to biking season!
---
Last edited by nvanvlymen; 09-05-2013 at

10:55 AM

.
03-29-2011, 01:13 PM
---
as a follow up, i received my SSSA last night. woot.
I have a couple thoughts for lifting the bike:
Gonna take of of the left and right sets, and in their place, install a 4" long lagbolt. This will give me some leverage to sit the bike down on. It's right into the main frame, so i hope it will work... pending i can match the threading.
Otherwise, i have some other concoctions i have in mind. I do need to get a better jack and some stands tonight... I have cargo straps that I will keep the bike latched to. I'll take more pic's later.
---
Last edited by nvanvlymen; 05-09-2013 at

11:09 PM

.
03-29-2011, 01:15 PM
---
I did some searching for some 4x100mm rims, and the ones I wanted earlier are only available in sets of 4. So, back to the drawing board. I want something with a larger lip on the rim. The spoke pattern will be a little more exaggerated but I saw it on another guys streetfighter with a SSSA, and i really liked the look of it. Maybe do a vinyl design on the lip or some etching? we'll see.

Also looks like i'll be doing a 200x50x17 tire. that should prove to be special.
03-30-2011, 01:34 PM
---
I hope so too!
I was reading a couple posts the other day about people who put money into their bikes for aesthetic reasons. They were criticized pretty heavily about changing out a stock bike, especially the F3 because of their rarity. When the SSSA came up in the post, people went crazy calling the guy a poser and what not.
In all honesty, I thought about that when I considered this project. The acceptance in the biking community when you mod your bike, and it's not performance based is ridiculous. At least in this post it was. I don't have the URL otherwise I would share it here.
I think there are just too many people that are "bible" hardcore about sport biking that they forget about the % of people who are just casual riders who just want to have fun. I did 200 on my bike once, and It was intense. But i didn't find any enjoyment of it afterwards.
I worry (sorta) that with when i show up at that coffee shop with my SSSA'd F4/R1 that people will react with the standard "what a waste of money". I suppose If i look at my history of cars that i've owned, I shouldn't even worry about it. My last car was a white 94 grand am, I custom painted the interior and gauge unit white, and had white zebra stripe interior with black lights... thing light up so bright that you couldn't see out the back window...
Suppose you can say i struggle with attention issues? I just like uniqueness. It's in my blood as a designer. Can't leave anything alone.
Anyhow. Progress on the bike is good, I have it going up on the jacks tonight. Gonna start doing my filming process tonight. The whole time lapse video of the bike being converted will be pretty cool i think
I'll likely do updates on a semi regular basis, two-three times a week.
---
Last edited by nvanvlymen; 05-09-2013 at

11:11 PM

.
03-30-2011, 07:07 PM
---
just like you, i cant leave anything stock.. every vechicle i have owned i did some kind of mods and definatly some kind of design on it. even my mini van is painted and im about to do angel eyes on it as a test before i do it on my bike.

if you do mods yourself its not as costly as people make it out to be. good luck with the mods and i will be checking on it all the time so like you said you gonna post progress, please do.
03-30-2011, 10:26 PM
---
Filming went ok tonight. I was really skeptical about putting the bike up on the pegs I installed. The guy at the hardware store told me they were the hardest metal they stocked that would fit the threading. It's a 4" stainless steel lag-nut. I had another one in my hands that was rated a 5 on the hardness scale.. whatever that means... apparently, the stainless steel doesn't exist on this "chart". Suppose if i wake up tomorrow and the bike's on its side.... i can sue? lol.
I have all the fairings off, the middle rear fairing has a bit of damage on the underside where it would screw into the subframe, but i never noticed a problem so i assume its a minor issue. I may opt to fix it for the sake of it.
Im trying to get the front cowl off, and its a bit of a bugger, Is it really neccessary to take the side lights completely apart? I suppose it doesnt matter anyhow, I'm likely going to replace them with some high output LED strips.
Took a look at this site earlier today. Im all about leds and stuff... kinda silly.
http://www.chromeglow.com
I liked the concept of this on the back of the R1 tail. As much as i like their stock brake light, I'm not certain I like their turn signals. This could be an interesting future mod. on the expensive side. They have a set of daytime running lights I may try and do. I see a lot of people doing that mod, so Im not sure if i can put my own spin on it somehow. i don't want to go too TRON:legacy or anything... not that i don't frikken love the movie... (watching it now, pretty disappointed that Clue's face looks very artificial in 1080p)
Anyhow, all the glitz will be after i can get the bike together. I need to source out a new f4i left fairing... the guy told me it was going to be 100 to ship! ouch! I can get one here locally for 120... lets hope its still around on craigs list.
Pictures tomorrow. I hope to make it to a metal shop friday to get the new shock mount welded on. woop.
03-30-2011, 11:03 PM
---
The upper cowl comes off as one piece. The turn signals can stay on. Remove the mirrors, 2 bolts each, and the inside covers next to the windscreen, 1 screw each. 1 fairing screw into the frame on each side near the tank (these were exposed to you when you removed the lower cowl). The entire cowl will now come off towards the front of the bike. After you've pulled it about 6" or so forward, unplug the headlight and the wires to the turn signals.
Oh yea, almost forgot. You have to remove the small black cover under the headlight so you can unscrew the little air intake funnels that are held on with 1 screw each to the upper cowl. The little air intakes stay attached to the hoses on the bike.
03-30-2011, 11:13 PM
---
yeah, I got as far as needing to unplug the side markers and headlight bulb. the wiring is pretty tight, but im replacing most of the system so I may snip some stuff to expedite the process. the philips screws holding the two air intakes are in a awkward spot. I'll have to dig around to see if i have anything skinny enough to take them out. It looked like the front cowl was in thirds, but the headlight keeps it all together.

thanks for the input!