wrecked my bike think of street fighter
03-12-2013, 07:54 PM
Join Date: Dec 2012
Location: melbourne florida
Posts: 14
wrecked my bike think of street fighter
---
i have a 2013 honda cbr250r repsol editon
i was passing a city bus and rear ended a car at an unknown speed.
everyone said it was totaled.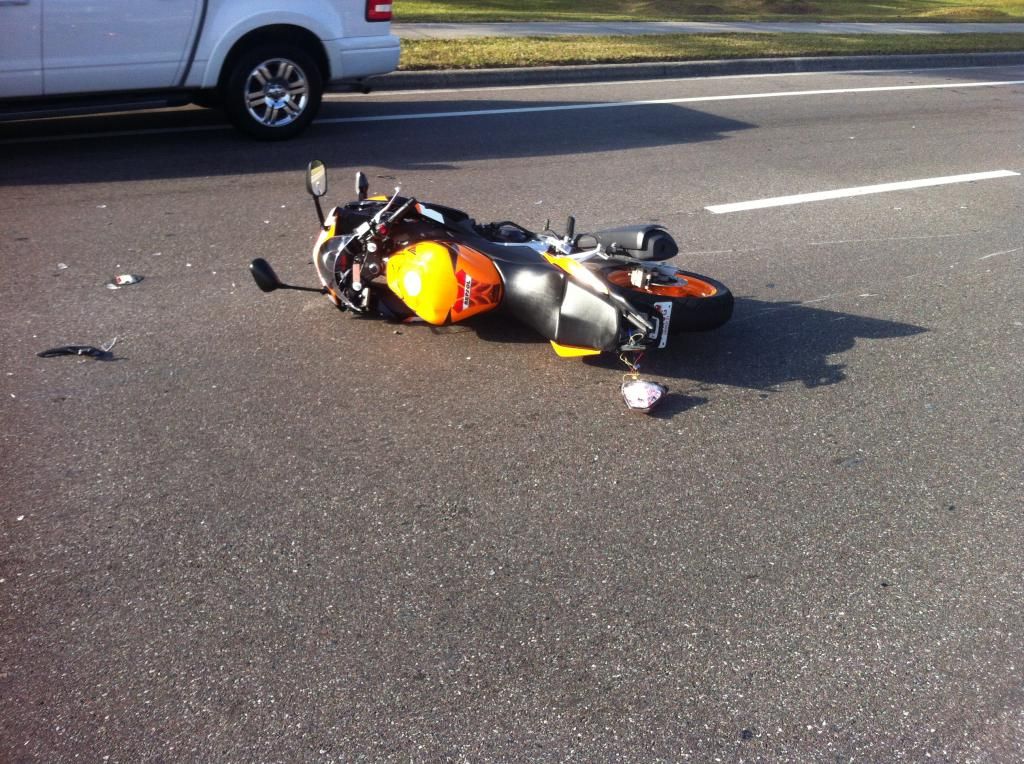 picked up from the tow yard
bent forks, broken handle bar, left side peg and shifter gone, rear tail section needs new plastic to hold the rear lights,
got everything stripped off and to be honest i like the "naked" look,
dealer said the frame was no good but it doesnt look bent to me.
im going to rebuild the bike and get it road ready!
what do u guys think?
03-13-2013, 09:06 AM
---
it all depends on the frame, if it's good to go, then that's a perfect fighter candidate.


there's more than a few 250 fighters out there.... it's a good bike to fighter. and it'll teach you a lot about your bike in the process




im glad you're alright!
---
Last edited by Conrice; 03-13-2013 at

09:12 AM

.
03-14-2013, 08:38 PM
Join Date: Dec 2012
Location: melbourne florida
Posts: 14
---
The frame appears the same from the naked eye
this picture shows the frame in the front where the triple tree was. The dealer says the paint the is chipping is from the frame bending in the crash But the day after I bought the bike I noticed rust and paint missing under the rear seat. So it wouldn't surprise me if it wasn't from the accident.
This is the radiator that the dealer said is no good, it does not leak or cause the bike to over heat. So I'm not going to replace it. It's just a little dent
Thread
Thread Starter
Forum
Replies
Last Post