un-link and link a chain !!!!!!!!!!!!
06-02-2009, 06:41 PM
---
06-03-2009, 10:57 AM
---
yes they are cheaper ones, those were just what came up on top of google lol. There are kits that will have both tools for under a $100 or even cheaper. I know you can find the rivet tool for around $25 on ebay etc. The link cutter I'm not sure about, but a grinder does wonders
06-03-2009, 12:40 PM
---
hacksaw works too, slower but more precise. (i used a grinder myself)
once you get the old chain off and the new one on with the new master, you can use all kinds of impact-able tools to flare the rivets. the rivet tool obviously makes this safe and easy, but if you only have a ball-peen hammer and a 2x4, so be it!
if you google 'motorcycle master rivet' you'll get all kinds of details
I just finished mine a few weeks back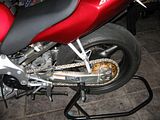 06-04-2009, 06:55 AM
---
Thread
Thread Starter
Forum
Replies
Last Post