cbrfairings review (06 600rr)
06-22-2011, 11:17 PM
cbrfairings review (06 600rr)
---
Welcome welcome, today I'm writing a review for CBRfairings.com. I ordered the 06 HRC style with a solo seat cover and had them do some custom painting. shipping took about 3 weeks sadly the box looked like someone used it as a couch so i was a little concerned about the condition of the fairings.
upon opening I noticed two pieces had broken (tap on tank and the piece that fits under the headlights)... not fault to them everything was wrapped very nice and extremely well. I emailed them and have new pieces on the way!
The paint looked amazing!!! No major blemishes or screw up's and only a few holes needed a slight cleaning out of overlapping paint. It came out better then i could have imagined.
and now the fitting... I did a bunch of maintenance and modification to my bike so it took me about a week before i could get every thing on. I have to admit I had a patch work of fairings from different bikes (i bought it "salvaged" ) and these fairings actually fit much better then the last ones did! I still have to cut a hole for the frame slider and even with the extended frame bolts still installed. They stick out about 1/2 inch farther then normal on both sides so the side fairings are slightly pushed out. That made it slightly harder but everything still fit together with out the gaps the old ones had!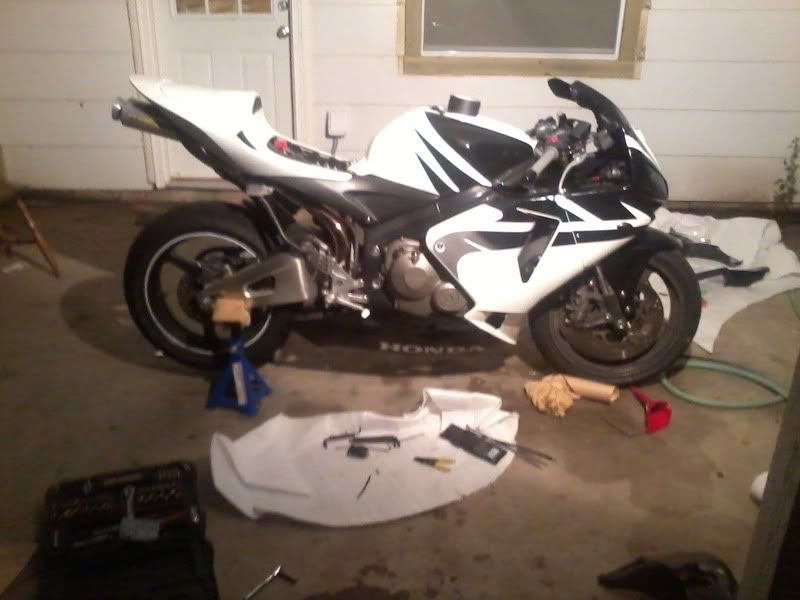 (sorry for the bad cellphone pictures... the black dots you see are actually fly's! grrrr lol )
Over all I am very happy with them and will buy my next ones from them.
I give the customer service a 8
packaging/ shipping a 7 ( only because I did have broken parts)
quality of paint and fairings 9
fitment 8.5
Over all I am very happy with them and will buy my next ones from them so they get a 9
I highly recommend them if your in the market for new fairings
Thread
Thread Starter
Forum
Replies
Last Post