(im sure) another exhaust thread
04-18-2012, 09:11 PM
Join Date: Aug 2011
Posts: 55
(im sure) another exhaust thread
---
Hey guys, whats up? Before you yell at me, I have been browsing post trying to figure out which exhaust to buy for my 02 cbr f4i. I have come across a few posts about where to buy the different type of mufflers, but no real threads that actually talk about them.
The stock exhaust is just too quite. I want to be heard. Not be be cool, but to make sure that dumb *** on 4 wheels hears me when he decides to not look to change lanes.
Does anyboyd have any personal opionions on which of all the aftermarket are the loudest? I took my whole muffler off (so just open headders) and besides it being so loud it hurts my ears, I felt really good about "being heard" on the road.
Is there any exhausts that can net this loud sound? perhaps a tad bit quieter? (But sound decent?)
I was looking into a yoshimera (sp), but my buddy said that they are also kinda quiet. Like I said above, I want people to know exactly where I am. Its not for coolness, its for awareness
Thanks for the help guys.
04-18-2012, 09:38 PM
---
The yoshis are nice but yeah theyre not the loudest. Theres a billion threads on here about exhaust as i can see youve imagined. I swear i was just posting in a thread in the f4i section with the exact same questions like two days ago but i dont see it so maybe it was the modifications or how-to/tech sections sooo ill just say it again....this really should be a sticky *cough cough*.....
But yeah your options are pretty much 1) cut down the stock exhaust (and remove the baffling too if you want). Itll look 1000 times better and be much louder. or 2) Buy a slip on from one of the various manufacturers. (and you can even cut that down too if you want)
This was my bike how i got it with a jardine rt-1
it sounded ok but definitely wasnt loud enough and i was after the same thing you are sooo i cut it down and removed the baffling....
but after hearing how it sounded when other people rode the bike i hated it and it just sounded like a bunch of firecrackers going off inside a metal garbage can sooo i found a guy selling a two brothers exhaust off his gixxer for $80 sooo i got that and could not have been happier....
If you look at any of my comments in any of the other exhaust threads if you search i always recommend two brothers even though a lot of people just think its loud and obnoxious. Seems to be a love it/hate it type thing. But they sound awesome, nice and deep, and theyre loud, so its a good balance. Its just a slip on so i dont care about people talking sh*t about it not being a performance exhaust or whatever...its a slip on....its meant for looks and sound.
Two quick videos of the sound of it on my bike after i installed it....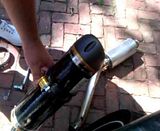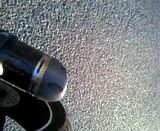 04-18-2012, 10:29 PM
---
04-18-2012, 10:44 PM
Join Date: Aug 2011
Posts: 55
---
thanks for the quick responses guys.
nick, you said you found a slip on off a gixxer.... does that mean that for the most part these slip on exhausts are interchangable between different make/models of bikes?
Loud and obnoxious is about what I am looking for. How did cutting up the stock muffler (and removing the baffle) sound? My buddy has a stock muffler waiting for me to cut up (if we choose to do so).
Also, I have read that you have to "re-seal" it with a tac weld or something. I dont have a welder or any kind of riviting ability. Is this somethign that Is going to be hard to do? I am fairly mechanically inclined... just never welded or rivited anything (unfortunatly I have never had the oppertunity to work for a race team haha
)
04-18-2012, 11:06 PM
---
how the hell did i not know about that thread?...couldve saved me lots of time...oh well...thanks then kowen.

Um well the mufflers are all the same its just the midpipes that are shaped differently depending on the bike so theyll be in the right place when you go to bolt them up. The gixxer midpipe ('07-08 1000 i think it was) was actually really close to fitting perfectly on my f4i. It just put the muffler out like 2-3 inches too far away from the side of the bike, and the end of the pipe that bolts to the headers was too big. So if you want to go that route you have to 1)get whatever muffler you buy attached to the stock(or any f4i) midpipe 2)get the midpipe from the new muffler bent into a shape thatll fit or 3)just get a muffler shop to custom make you a midpipe which shouldnt be too expensive but youd probably have to paint/powdercoat, or chrome it for it to have a nice finish.

I had a friend that welds cut the end off the gixxer midpipe and the jardine midpipe that was on my f4i and then he welded that onto the gixxer midpipe so it fit on the headers. (he also took a couple extra inches off the gsxr midpipe before welding the jardine end on so that the exhaust could be moved forward a little more which helped move the muffler closer in towards the side of the bike and it fit like a glove, if that makes sense to you)

As far as cutting it down it really couldnt be too much easier, it only took me about an hours worth of work.

While the exhaust is on the bike look and measure how short you want to make it and mark it off (or take it off first but doing it while its on the bike can help you decide how short you want it to be). Then, if you didnt do so already, take the exhaust off and cut the muffler on that line using a sawzall/dremel/cutting wheel/hack saw/etc. Pull the end off and pull the packing and baffling out of the muffler. At this point you can throw that away or if you want to keep the packing and baffle in the exhaust just cut it down to the same length as the exhaust and reinsert it. Then drill out the rivets holding on the end cap/exhaust outlet to the piece that you cut off and remove that end cap. Put the end cap back in the shortened exhaust and mark where the rivet holes are and drill them out in the muffler or just drill new holes through both the exhaust and end cap then pop the new rivets in. Put the exhaust back on the bike and youre good to go.

Riveting is no harder than using a pair of scissors or bolt cutters or something along those lines. Just go to harbor freight and buy a pop riveter for like $10, put the rivet in the rivet gun, put the rivet in the hole and squeeze the handles together until it pops the shaft of the rivet off.

That was my process, any other exhaust will be pretty similar. Theres also a couple how-to's on here and on other sites if you do a google search. If you need me to clarify anything or need any other help let me know.
---
Last edited by nickp123; 04-18-2012 at

11:09 PM

.
Thread
Thread Starter
Forum
Replies
Last Post