Needing some "bling" opinions
01-26-2014, 10:07 PM
Needing some "bling" opinions
---
Ok, Sersi is pretty much perfect just the way she is. But being snow / winter bound, I'm getting the urge to tinker a bit. But I don't like gaudy. I prefer function AND form. Not just useless flash. I did just order these:
Rizoma "Shape" Left Engine Guard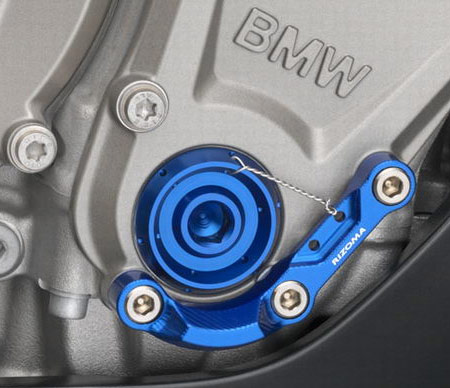 Rizoma "Shape" Right Engine Guard and Camshaft cover.
Rizoma Front Sprocket Cover
So what's next? The s1000rr and HP4 already have ss brake lines. Not much can be done with the exhaust on the HP4 without swapping out the entire system (Akro shorty slip on will not fit the stock exhaust). And she already makes 177 rwhp on a "amateur" dyno (free parking lot dyno day) stock so more power isn't necessary. Have adjustable rearset stock as well.
01-26-2014, 11:25 PM
---
The usual, mirrors, foldable/adjustable levers, I'm sure there are carbon fibre bits available for that bike or you can get them hydrodipped in cf or some other pattern, seat re-upholster (double color) turning indicators... although would probably be tricky to UPgrade that bike with aftermarket bits...
---
Last edited by Mattson; 01-27-2014 at

12:01 AM

.
01-27-2014, 03:03 PM
---
Yea, as said that bike can be a bit tricky to try to bling up as it already comes stock with pretty much all the CF, levers etc...

Does it have a steering damper?
01-27-2014, 05:09 PM
---
Yup, has a steering damper. Was thinking HIDs but I really don't want to mess with the wiring. Same with flush mounts turn signals.
It's not all bling btw. I'm going to tackle respringing the forks in the come spring. Need more outdoor warmth for a job like that. And have to order some BMW tools to make it easier. Probably going to pickup a Kendon trailer late spring so I can haul her to the track this Summer as well.
Bar ends are another possible. On the fence with those. People have switched to heavier bar ends on the s1k to dampen vibration. But I don't experience any vibration so kinda worried I might break what ain't broke.
****... I actually have the urge to mod and can't find anything to do
Wonder if I can assemble another fairing set and have it repainted, swapping black for white....
01-27-2014, 07:11 PM
---
It's more "I need it!". Going nuts with this craptastic winter we're having. Read all the motorcycle magazines, thumbed through my books... If I don't do something related to motorcycles soon I WILL get a trailer and take her to somewhere sunny for a day trip.
Can't ride, may as well tinker