New to me bike need bodywork/blinker advice
04-11-2012, 07:21 PM
Join Date: Apr 2012
Location: Colorado
Posts: 18
New to me bike need bodywork/blinker advice
---
heres the bike with some pics
It has been park dropped and the right front blinker base is busted (on the fairing)
and the dash isn't sitting flush on the left side, it appears someone took off the fairing and missed a hook and clip piece
Im trying to fix it with some kind of aftermarket LED blinker set and inexpensive as possible
Pics:
04-12-2012, 06:59 AM
Join Date: Oct 2011
Location: District of Corruption
Posts: 72
---
I'm not sure about the fairing, but looks sorta like mine when I had my first spill. It broke off the right turn signal. I got Proton flushmounts and used Gorilla glue to put the fairing pieces back together so I could mount the turn signal
04-12-2012, 08:29 AM
Join Date: Apr 2012
Location: Colorado
Posts: 18
---
alright thats what I was thinking about I have used gorilla glue on fairings before, does anyone know of a bigger blinker that would used doublesided tape and cover the hole all together? I have looked around and haven't found much.
I have thought about the mirrors with blinkers in them but dont want shakey mirrors either, If I could find a good set of mirror blinkers I would probly shave the OEM blinker spots and fiberglass them
04-12-2012, 09:13 AM
---
These a bit larger, yet can still look sleek and nice.
Triangle LED Flush Mounts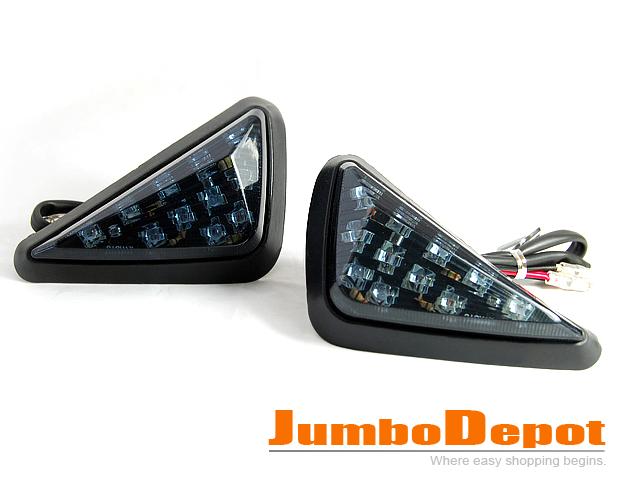 04-12-2012, 09:13 PM
Join Date: Apr 2012
Location: Colorado
Posts: 18
---
If my fairing wasn't damaged as much as it it I would definately do the protons. But I dont think they will be an option for me the way it sits now
the protons sit on the little "step" that is there after you take the OEM signals off I dont have that anymore on the right side
see, not much "meat" left on the fairing