know where I can get color matched number plates?
11-11-2009, 05:50 PM
know where I can get color matched number plates?
---
Ive been looking for months, most ideas i find end up not working either they don't have the color or the skill to make. I guess it doesn't have to be exact but id like close to the same color as my wings, but dont want to order and it be completely wrong. Anyways.. This is what im looking for.
and this is what color it needs to be. (wings)
Any ideas? Tapeworks didn't know if the color was close, I got samples but really to small to compare.
11-11-2009, 07:12 PM
---
well, what you're looking at on my old F4i is this:
- the tail plates are pretty complex due to multiple curves on the tail, so i ended up ordering them from tapeworks. (the extra bits on the cowl i hand-cut out of white vinyl to match)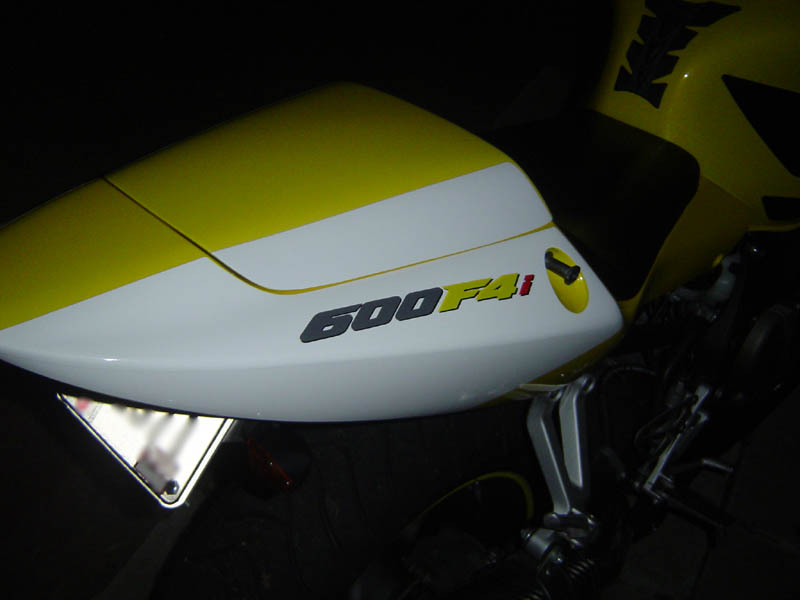 - the pseduo-plate on the nose i made by hand by tracing a piece of paper and cutting out from a sheet of white vinyl.
- everything else on the bike i made out of vinyl back when i had a cutter.
i ended up riding my bike up to the vinyl supplier to match up the closest yellow color they had.
11-11-2009, 07:17 PM
---
I was wondering were I snagged those pictures at lol
. Anyways ive been searching for months for someone to do just the back, one guy bailed, other said he would lay it on my bike and cut it out... f that. And tapeworks can't really match the color. Ive thought about doing white like you've done but I think it would clash too much. I dont know what to do, ive about given up.
11-11-2009, 07:25 PM
---
if you can find some vinyl you want to use, i'm pretty sure i've still got templates for the tail you can use to cut out the vinyl.
here's a thread
from back when i first put on the tail plates.
and sadly, here's the last i saw of her...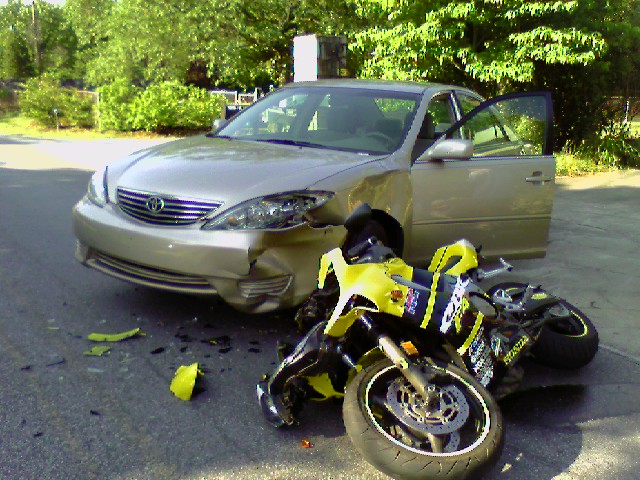 ---
Last edited by regener8ed; 11-11-2009 at

07:31 PM

.
11-12-2009, 02:36 AM
Join Date: Jan 2008
Posts: 33
---
do you know if your red is the same as the red/silver?
Here's mine along with a roll of Oracal 641 Red #31.
let me check again in the day, but I think it should be a match.
if a match is the case, and you want to use regener8ed's pattern I can send you a couple feet of the red (you pay shipping). I'm not using it.
11-12-2009, 03:42 AM
---
If you need the exact paint match, try COLORITE - they keep all the Honda colors in stock.
once you have that, may be easier to match the bike to the plate.......
11-12-2009, 04:02 AM
---
That's a great way to cover up some scars haha. I got a red/silver that needs a little love in the tail but I'm not sure if red on the tail would catch on. Any opinions on that? Can you spare a little here mobius? If I decide to go with it.

And Regen...wow...what happened to you after the accident? That picture is giving me nightmares.
11-12-2009, 04:54 PM
---
I thought colorite was only paint? I just checked on their website anyways and they have 3 colors listed for my year, (red, yellow, black) Im sure the black paint would be different from the vinyl tho? right.
11-12-2009, 06:31 PM
Join Date: Jan 2008
Posts: 33
---
So here's the verdict - Oracal #31 Is barely... BARELY darker than the stock red. It's almost not noticeable even when overlaid. #32 is a light red and might be an exact match if you're very picky.
Regenr8ed... are you saying you have them in vector?
xjoewhitex... I got your PM. If this is a close enough color match for you (or F4ith) send me a pm and I'll mail you vinyl a tube for $4. Not gonna get much cheaper than that. Mine is an 03 btw
I also have White, Black, Pink, Gold, etc. Vinyl is just a hobby of mine, I'm not a shop
---
Last edited by mobius9; 11-12-2009 at

06:35 PM

.