Chain question
11-16-2009, 03:10 PM
Join Date: Oct 2009
Posts: 13
Chain question
---
So I took my bike in to get new tires and the shop of course provided me with a laundry list of things I need to fix on my bike. The only thing that bothers me is that they said I need chain and sprokets NOW. They said "the rollers are loose" and the chain could snap off any second while I'm driving. The chain is tensioned correctly and the gauge is just barely off from brand new. I don't know the mileage on the chain because I just got the bike. The bike itself has 18,000 miles. But like I said the gauge where you adjust the chain shows that its still new.

What do I need to check for on my chain to verify their claim before I go and buy chain and sprockets?

Thanks
11-16-2009, 03:36 PM
Join Date: Oct 2007
Posts: 213
---
Hmm waiting on a response. How tight do you guys adjust your chain? I just adjusted mine and it feels a bit tight, basically if I push up, it doesn't touch the bottom of the swingarm, just barely if I am pushing hard. Is that good?
11-16-2009, 03:52 PM
---
Is the chain stock? If so, then change yea. 18k miles is a lot even if the gauge is showing that the chain is "new".
Pictures will be very helpful in your case
The chain tension should be 25-30 mm/ 1-1.2 inch
11-16-2009, 04:30 PM
---
The chain on my bike had 14K miles on it before it displayed signs that it needed replacing. You can tell if it's the original OEM chain, because it will be an endless chain, with no definite (riveted) master link. Mine had a silver RK on it from the factory.
Before replacing, the chain had a couple of tight spots on it, so that you would get different measurements when you checked slack at various points after spinning the wheel. So you could never get a true adjustment, and had to go with the tightest point, meaning the rest of the chain was loose. It also had several links that were tight, and would not pivot as smoothly as the rest, causing kinks. The rollers on it were also very loose, but unlike your chain however, mine had stretched into the red zone as well.
You could probably get by with keeping your chain for a considerable amount of miles still, depending on your riding style. If you just cruise around town, that chain will probably last a long time in its condition, but if you typically ride the bike fast & hard, you should likely consider getting a new one.
A good practice might be that when in doubt, swap it out. The damage incurred by having the chain break as a result of trying to squeeze every mile out of it will be greatly more than just replacing it before it fails. Another note, after having replaced the chain & sprockets, the bike rides and feels a lot smoother now, particularly in lower gears.
As for adjusting the chain, the manual states that it should be at 1" to 1.25" of slack. You're going to measure from the same point on the chain, meaning if you take your first measurement from the top of the chain, you will take the second one from the top as well. Measure the distance between downward travel (pushing down) to upward travel (pushing up). What I'll do is draw two measurements on a piece of paper; 1 inch, and another at 1.25 inches. You don't want to be tighter than 1, and not much looser than 1.25 although some like their chains looser than spec.
This picture shows the chain being measured from the top of the pin.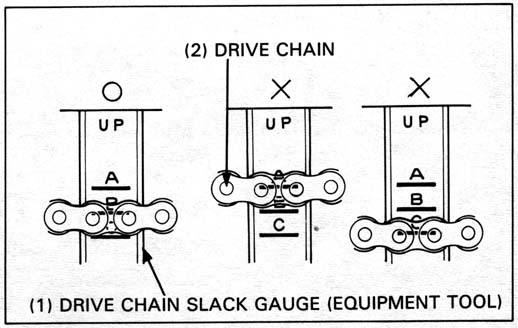 ---
Last edited by Incognito; 11-16-2009 at

04:41 PM

.
11-16-2009, 09:01 PM
---
Just as a note-check around for local mechanics who might work out of their home, etc. If there's local motorcycle forums, check there and see whom people can recommend. That's how I found my mechanic and he's a million times better (and cheaper) than the shops around here.
11-16-2009, 10:59 PM
Join Date: Oct 2009
Posts: 13
---
Thanks for the responses.
I could just change it but I have a lot to do before this semester ends. I am only worried about it because they said it could break at any second and I drive my bike every day since my car is broken.
The mechanical work is not a problem just the time and money.
I was hoping someone knows how I can verify their claim that the "rollers are loose". They don't seem any looser than they should be? They are rollers afterall.

And yes I'm on the local forum... lots of tools there!
11-17-2009, 03:46 AM
---
So would you guys recommend trusting the gauge our bike's have? Mine seems fine, however I have a problem. (Start bad explanation)

So I'll be riding, really any speed, any revs, any gear really. When I go to change gears, up or down, and this doesn't happen all the time, the bike seems to slip. The best way to describe it is when you're riding a pedal powered bike, and you change gears, and you hear and feel the chain trying to change, but it won't, and then once you basically "start again", it works fine. I have no idea if this is the clutch, sprockets, or chain. What do you guys think? The bike has 11k miles on it. All of which I've put on in this last season. (Yes, I do ride a lot, and the bike only had 1300 miles when I bought it)
11-17-2009, 12:19 PM
Join Date: Oct 2009
Posts: 13
---
Spoke with a tech just now... apparently the rollers or barrel things aren't supposed to rotate and when they spin that means they are broken. So my chain is crap after all.

Also asked him about gears slipping and he said that you should lube the cable to your clutch, lube your shifter itself and see if it helps before changing anything mechanical.
11-17-2009, 12:55 PM
---
The rollers are supposed to rotate around the inner sleeves. Does this tech you spoke with work at the same shop you took it to? I'm not suggesting your chain is OK, just saying.
After having looked at my old chain, there is noticeably more space between the roller and the sleeve, as opposed to the new one, where there is no play in them, although the rollers on both do spin freely.
11-18-2009, 08:43 AM
Join Date: Oct 2009
Posts: 13
---
It was a different shop than the original. Thanks for the info incognito thats what I was looking for. I ordered a chain anyway so I'll be able to tell the difference when it gets in. I was/am just worried of it breaking before I get a chance to do anything about it. The cars broken so I'm driving the bike every day.