View Poll Results: March 2014 ROTM
Kiwi born's F2
11
32.35%
Blacken77's F4i
3
8.82%
AirmanSkee's F4i
4
11.76%
FOGeologist's F3
12
35.29%
Sjona2011's F3
4
11.76%
Voters: 34. You may not vote on this poll
March 2014 ROTM Voting Thread
03-15-2014, 08:11 PM
March 2014 ROTM Voting Thread
---
Welcome to the voting thread for March 2014.
Everyone can vote in the poll, but
only contestants and staff are allowed to post on this thread.
Posts made here by anyone else will be deleted.
Contestants are encouraged to put up pictures and write-ups of their bike here.
Please do not pimp votes in the new member area. The off topic and other bike forums are the more appropriate place for it. However, a mention to vote in your signature line is permitted anywhere on the forum.
Only 1 vote per member is allowed. Anyone caught cheating will be banned for life....
Good luck to all of the contestants!
Here are the the nominees:
Kiwi born's F2
Blacken77's F4i
AirmanSkee's F4i
FOGeologist's F3
Sjona2011's F3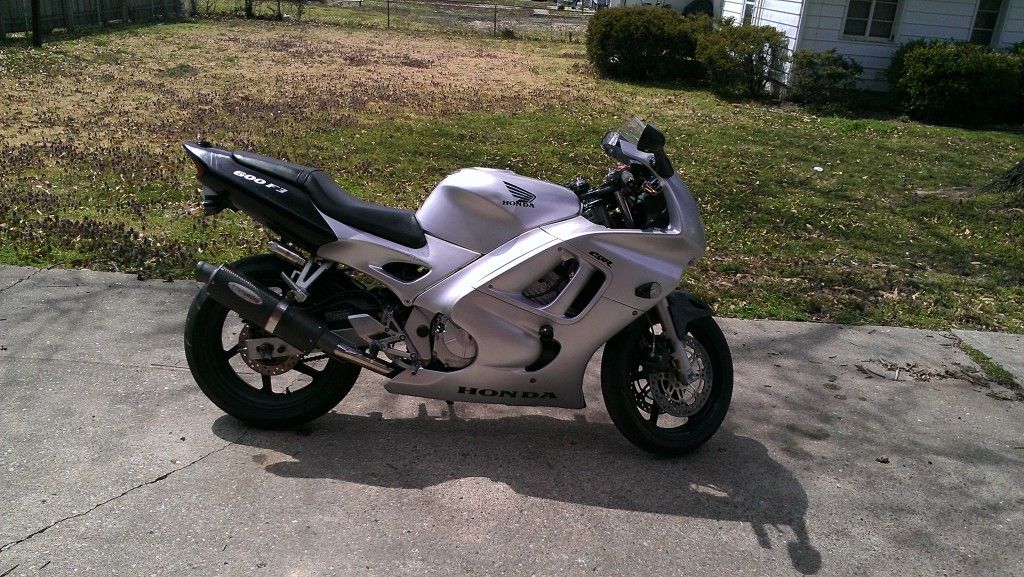 If anyone would like to use a different pic on this post, just say so!
03-15-2014, 08:26 PM
03-15-2014, 11:29 PM
---
This is my 98' F3, started out life a little worse for wear and missing lots....and lots of nuts and bolts.
Had her for a little over two years now and have done all the work, including paint, myself.
Mods include:
Full TBR exhaust
stage 1 jet kit, possibly stage two soon.
heated grips
HID headlight
F4i gauge cluster
quick seat release
shorty levers
db windscreen
turn signals
Currently working on an engine build
f4i intake cam
port/polished head
adjustable cam gears
lightened/knife edged crank
maybe more to come eventually
probably more mods, but thats all i can think of right now.
and no, that sweet cb750 isnt mine!
03-16-2014, 09:54 PM
Kiwi's F2
---
Hi Guys and Girls,
So here's some pics of my 92 F2.
Not going to win this thing on mods but will hopefully get a few votes from those who appreciate a well looked after F2.
She's as she was the day she was born kit wise with her original graphics still in very presentable condition. The frame sliders have been added to protect her beauty and of course plenty of polish.
She has no other aftermarket bits added. However has always been serviced by myself and paper work shows previous owners also, to the highest standards always. For example recent receipts for new fork seals, Teflon bushes ,dust covers, oil filter, RK chain, new clutch leaver, mineral antifreeze, wurth chain dry lube, and thats just the last few months over summer. All the good normal maintainance stuff.
Her name is Norma Jean (cause she has all the curves in the right places).
The pics below are from rides around my hometown, Rotorua New Zealand.
Enough from me ill let my "nearly classic" bike do the rest
Cheers
KB
So that's her, we're due for some more sun soon so ill put sum tyre shine etc on her and pretty her right up for her next photo shoot and put another pic or 2 up.
03-16-2014, 10:18 PM
---
fast break down of my f4i
2001 f4i
mods
-2+2 520 cov
atown stunt cage
shorten d&d
blue led lights
steering stabilizer
---
Last edited by blacken77; 03-16-2014 at

10:23 PM

. Reason: forgot stuff
03-17-2014, 12:36 AM
---
Lovely bikes guys!

Good luck to all of you.

Cheers, SB
03-18-2014, 04:27 PM
---
There are some fantastic bikes this month.....................

C'mon guys vote for your favourite!

Cheers, SB
03-20-2014, 12:23 AM
Small vid of bike doing its thing
---
Evening cruise through Rotorua city to visit a mate for a cold one, there and back again.
KB
03-24-2014, 04:39 AM
03-30-2014, 08:35 PM
---