June ROTM Self PROMOTION Thread!!
05-04-2007, 02:49 AM
June ROTM Self PROMOTION Thread!!
---
This is it boys and girls!! We just got done with the biggest month in total votes we have ever had!! GREAT JOB to everyone! Now on to the next month! JUNE***** This is where you shamelessly post your ride and ask others to have mercy and nominate you for next months running! I mean hell we all want that covetted (

imaginary

)trophy to put on the mantel! So if you think your ride DESERVES the nod! Maybe you did some great things to it and want others to see and appreciate or maybe you just got up one day and decided to wash it and wax it? Whatever it is post up some pics and express your interest in running for ROTM for June of 2007!
"This is NOT the nomination thread! DO NOT nominate rides here! That thread will be posted shortly."
05-05-2007, 01:44 PM
Join Date: Feb 2007
Location: charlotte nc
Posts: 167
RE: June ROTM Self PROMOTION Thread!!
---
just stock and clean but why not ill give it a shot..?.. (sorry for the lack of pics try to get some more up soon)

[IMG]local://upfiles/14260/B2C8E4ACFA2C4BDFA8D9ABF02E6BCD59.jpg[/IMG]

[IMG]local://upfiles/14260/21D1B15D39764E1FBC91A3903384519D.jpg[/IMG]
05-06-2007, 03:57 PM
Join Date: Apr 2006
Location:
Posts: 399
RE: June ROTM Self PROMOTION Thread!!
---
Here's mine, I just finished it last week.
Heres all that I have done to it....
-Custom paint (done all by me)
-Polished lips on rims w/ the spokes painted gloss black
-Painted fork covers, gas cap, stator and clutch cover, passenger pegs, and triple tree clamp
-carbon fiber frame sliders
-aftermarket pegs
-FMF pipe (painted same as other pieces)
-short stalk chrome front signals
-rear turn signals in the passenger pegs
-2005 1000rr tail conversion
-painted windscreen
-Renthal sprockets, -1 front/+1 rear and 520 conversion
-RK chain
-EBC brake pads
-And lowered 1 inch in the front
I think thats all.
Heres what it looked like 2 weeks ago
And here it is today...
heres the paint close up..
05-08-2007, 12:50 AM
RE: June ROTM Self PROMOTION Thread!!
---
Just took a few new pics of mine the other day, so I figured what the hell, I'll give it a shot too and post some up. Nothing major done, pretty much just clean and stock with a few minor upgrades.... 2004 F4i
-Hindle Titanium high mount
-Ohlins steering damper
-PCIII USB
-6000K HID headlights
-520 chain conversion with +3 rear sprocket
-Speedo healer
-LED integrator taillight
-Split seat tail swap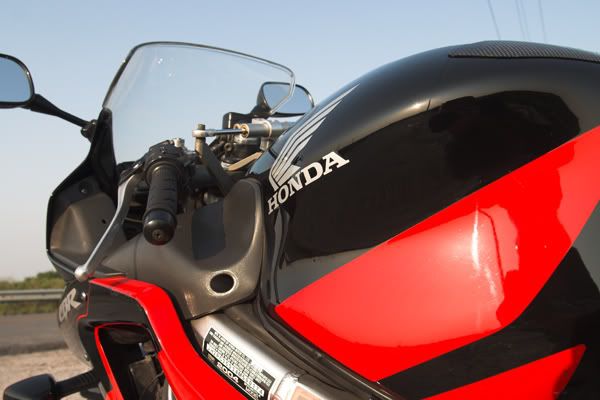 Me and the beast....