View Poll Results: July 2012 Ride of the Month Vote!!
CTcbr929
11
42.31%
nvanvlymen
10
38.46%
sjona2011
1
3.85%
MadHattr059
4
15.38%
Voters: 26. You may not vote on this poll
*July 2012 ROTM Voting Thread*
07-21-2012, 09:23 AM
*July 2012 ROTM Voting Thread*
---
Time for Ride of the Month vote!
Here are the rules:
1 - Only contestants and staff are allowed to post in this thread. All other replies will disappear.
2 - Only one vote per IP. Any attempts to cheat will result in ridicule. Besides, this competition is for a title only. No reason to cheat.
Here are the nominees in no particular order:

CTcbr929


nvanvlymen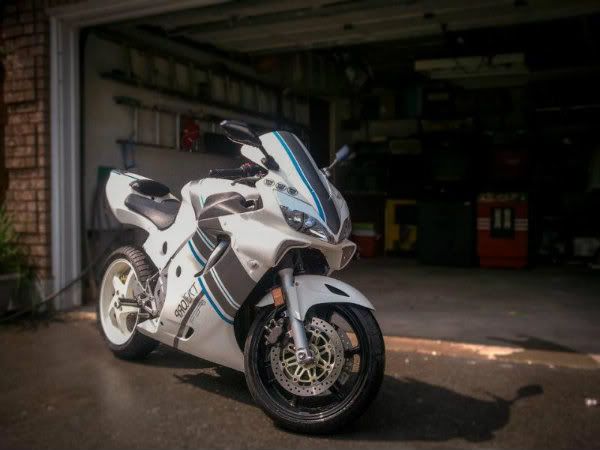 sjona2011

MadHattr059
Good luck, guys!
07-21-2012, 04:25 PM
---
Here's a more recent picture, taken after nomination...
If you want to know the history, check the nomination thread. I posted a few other
pictures and some comments on my beastie.
By the way, DD (my wife) talked me out of voting for nvanvylman's bike (sorry, man!)
Her logic...at least that way you'll get at least one vote, lol
God I love that woman!
Thanks, Ern
---
Last edited by MadHattr059; 07-21-2012 at

04:28 PM

.
07-21-2012, 07:15 PM
---
just some background from my bike:
picked her up last december, didnt run, all but the side fairings were gone, both sides were rashed and/or cracked. the PO said his buddy, whom he got it from, laid it down, but he was really vague about what really happened and what speed it happened.
didnt have any gauges so mileage is unknown, PO said 7k but i dont really believe him at all.
but when i picked her up she was fairly clean
the night i brought her home:
after about a week or so, had the carbs cleaned and she lived!
ran a little rough but carbs still needed synced/tuned
took me a couple months, and Countless trips to the hardware store, to gather all the parts i needed to make her road-worthy:
and finally, about a couple months ago, i decided to slap some color on her.
did all of the bodywork and painting myself, and no, its not rattle-canned.
the night i got it all put back together:
once i got some decals:
and a couple beauty shots
07-23-2012, 03:31 PM
---
Here are some shots I took last week, thanks Ern for the vote of confidence... lol just fun to participate.
Im all stock with exception to the obvious aesthetic changes. OK, im running a -1 +2, 520 chain because of the adoption of the SSSA. No one made a 530 rear sprocket for the VFR750... Almost done with the mods... just on the last round of vinyl work.
Gonna take her for a boot tonight while the weather is good.
07-28-2012, 08:26 AM
---
More pics to come! Many modifications to my bike. 30,300 miles and still running strong! Some of the parts came from members on here, like Trey929 and Conrice
Note: It is an originial Erion Edition from the factory*
07-28-2012, 09:43 PM
---
looks like theres no love for a silver f3
oh well, may be another time
07-31-2012, 05:53 PM
---
Grats to CTcbr929!! That was a tough race neck and neck with nvanvlymen.
Two really fine rides, kudos to both.

Kind of disappointed, no one seemed to appreciate sjona2011's effort. Like I said,
when I nominated him, "I dig a clean bike." Oh well, I thought it was hip.

As far as my showing, I dig the ones I got, thanks! However, I never anticipated
winning. If you look at my signature, you can figure where my prioritys have been.

Just wanted to say, "It was hip to be nominated and I enjoyed the ride!".

Thanks, to all who participated, the voters, nominators and seconds, the owners and
(of course) Kilgortrout for his continued efforts on our behalf.

Ern
07-31-2012, 11:30 PM
---
You said it Ern,

Although I am bummed I lost to one vote, at the end of the day it was just fun to participate. Congrats CTcbr929!
08-01-2012, 03:05 AM
---
CRAP! I forgot to vote...

I would have tied it up for you nvan.

Sorry bro.
08-04-2012, 09:23 AM
---
Congrats, CTcbr929! You pulled it off!