***** J U L Y S E L F P R O M O T I O N*********
07-05-2008, 10:08 PM
***** J U L Y S E L F P R O M O T I O N*********
---
Allrighty boyz and girlz ... let's see those beautimous beasts! Remember da rules ... current member, not last months winner, gallery of pics, blah blah blah ...

Looks like the polls are FUBAR until the grand poobah strikes us with the new forum wand so it'll most likely be voting by PM again. If none of the other staffers volunteer I'll do it again ... ROTM must go on!

Now show me some weiners, er, uh, winners ... ya that's it! [8D]

07-06-2008, 05:21 PM
Join Date: Apr 2008
Location:
Posts: 53
RE: ***** J U L Y S E L F P R O M O T I O N*********
---
Nimbus87's
Year: 2006
Model: CBR600RR
Engine size: 600cc
Mods:ZeroGravity Sport touring Windscreen, Driven clipons with driven bar ends, Pro Grip Grips, Targa Seat Cowl, Painted white with black chrome decals, PowerCommanderIII (with tune), K&N Filter, Pilot Powers, , Smoke Integrated Rear Tail light, Modified Hotbodies undertail kit. Pro-bolt Black Screws and bolts. Chrome Stator and Engine cover's. Shorter mirror stalks. Two bros slipon with gutted honeycomb headers.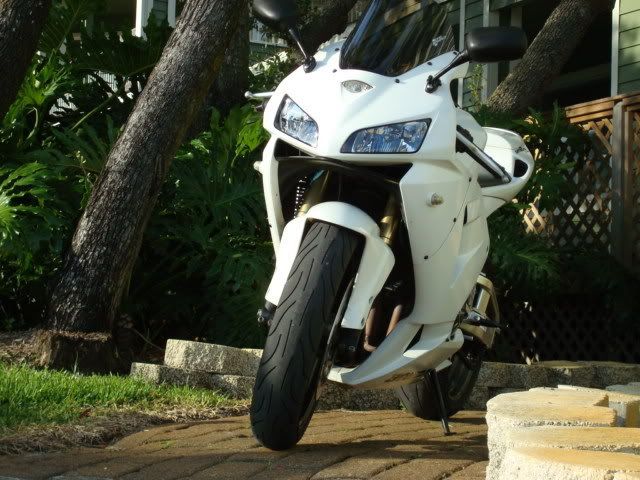 07-07-2008, 05:13 PM
Join Date: Mar 2007
Posts: 1,396
RE: ***** J U L Y S E L F P R O M O T I O N*********
---
Here goes nothing:
02 CBR 954RR
Custom paint plum purple, Chrome double bubble windscreen, Chrome brake/clutch levers, Chrome grips, Polished pit-tec tripple tree, Chrome air duct covers, Polished frame, Polished swingarm,Chrome Wheels,Chrome rear passanger pegs, Laser cut rearset heelguards, Polished extension blocks with engraving, Black suede seats (F&R), Complete undertail, Chrome stator cover, Chrome mirror block offs with RR engraved, Front flushmounts, Black powdercoated bike bolts, -1 +2, Polished adjustable kickstand, Custom exhaust made by "myself," and im sureI forgot something.Here goes a longshot but i'll try.
07-07-2008, 08:14 PM
Join Date: Aug 2007
Location:
Posts: 661
RE: ***** J U L Y S E L F P R O M O T I O N*********
---
I will try again!!!
List of Mods:
Puig black double bubble
Goodridge ss brake lines
-1/+1 vortex sprockets
Woodcraft CFM rearsets
BMC Race Filter
Yosh slip-on
Tripage FE
Custom built rear integrated tail light
EuroFX HIDs (both sides)
Color matched wheels with hand polish
CRG shorty levers
Hotbodies flush mount signals
Vortex frame sliders/rear spools
Motovation swingarm and fork sliders
Michelin PowerRace mediums
I am pretty sure their is more, but you get the idea.
(Some of these pics dont show all mods, cause they are older... sorry - pic with girlfriend is the most recent)
07-07-2008, 08:21 PM
RE: ***** J U L Y S E L F P R O M O T I O N*********
---
I'll throw mine in again...
My bike is a:
00 CBR 600 F4
Mods:
K&N
-1/+1 Sprockets (soon to be a 520 -1/+2)
Full D&D exhaust with a reworked CF canister
01 - 03 F4i tail swap
clear integrated LED taillight
undertail
LED turn signals in the passenger pegs
flush mount front turn signals
Custom seat covers
Smoked windscreen
Harris grips
grip warmers (for those cold winder rides
)
CF look mirrors
CF look levers
CF wrapped Ram Air intakes and covers
CF Wrapped chain guard
rearset raisers
Vortex Frame & bar end Sliders
Pilot Powers