** APRIL SELF PROMO 2008 **
04-02-2008, 10:24 PM
** APRIL SELF PROMO 2008 **
---
Getting off to a late start here this month........

THIS WILL ONLY BE UP FOR 1 WEEK!
THEN NOMINATIONS WILL START!!! STEP UP!!!!
WELL EVERYONE, HERE IS YOUR CHANCE FORAPRIL!!!
WE HAD A GREAT MARCH, LETS SEE IF WE CAN DUPLICATE IT!!!
.....LET'S GET OUT THERE, PROMOTE,NOMINATE, AND VOTE HARD THIS MONTH!!!!

AS ALWAYS REMEMBER......THIS THREAD IS FOR SELF PROMOTING ONLY!!!!
ANYTHING ELSE SUCH AS NOMINATIONS OR GENERAL BSWILL BE DELETED!!
THAT THREAD WILL BE POSTED UP SHORTLY.....(THE NOMINATIONS THREAD THAT IS)
NOW LETS
SEE `EM!!!!! GOOD LUCK TO EVERYONE THIS MONTH TOO.
IF YOUWERE NOMINATED LAST MONTH.YOU

CANNOT

BE NOMINATED THIS MONTH. WE ARE GONNA TRY TO GET SOME NEWER PEOPLE IN FOR THESE CONTESTS.
THANKS AGAIN.
LJ

04-02-2008, 10:41 PM
Join Date: Aug 2006
Location: ATL
Posts: 4,935
RE: ** APRIL SELF PROMO 2008 **
---
I wanna throw the 2005 Repsol 1000RR (real deal... no fake fairings...#955) out there for the first time! I know she's pretty much stock, but she's a beaut!
Current Mods:
[ul][*]Proton flushmounts[*]Corbin seat[*]Solo cowl[*]Integrated rear turn signals[*]D&D Slip on Exhuast (finally got a video if you wanna hear)[*]Diablo Corsa 3's on both ends[*]Oh and of course it looks show room new![/ul]
04-02-2008, 11:24 PM
RE: ** APRIL SELF PROMO 2008 **
---
heres my 07
2bros slip on
carbon fiber: triple tree cover, guage cover, fuel cover, midpipe shield, tank pad, knee pads, heel guards, tank trim, tail trim
pc3usb (with custom map, thanks BAXOM)
vortex frame sliders
puig double bubble
comp werkz f/e
titax shorty levers
trackday plates
name kit
front and rear LED flush mounts
goodrich front steel braided lines



[IMG]local://upfiles/18244/3921926F1E2C43C7B97A30B9069FA90B.jpg[/IMG]

[IMG]local://upfiles/18244/1BB51FC96801475F886626942A62C3E9.jpg[/IMG]

[IMG]local://upfiles/18244/AD6A86CDEC284C14AEFA58DFEE88A658.jpg[/IMG]

[IMG]local://upfiles/18244/A3A4E896961C4F3CA0FFEA56420CC521.jpg[/IMG]
04-03-2008, 06:44 AM
Join Date: Jun 2007
Posts: 2,001
RE: ** APRIL SELF PROMO 2008 **
---
Nothin special.. just cosmetic mods..
swapped the black mid fairing for the silver one you see pictured.
rizomas..
exaust shield painted black,
exaust detail painted black,
powdercoated swingarm,
passenger peg arms, subframe,
rear sets... and tinted windscreen.. just installed the spools and pazzo levers.
other than that.. plain ole stock bike..
vortex spools on.. finally protected.
04-03-2008, 09:41 AM
Join Date: May 2007
Location:
Posts: 18
RE: ** APRIL SELF PROMO 2008 **
---
Here's my ride
- 06 cbr1k fork with custom spacer
- cbr1k front fender
- HRC throttle assy
- K&N air filter
- Micron Serpant full exhaust system
- Powercommander 3r
- Original seat cowl
- Bagster tank bra
- Powerbrozen wind screen
- front, rear axle and frame slider
- Braking Front brake disc
- Hel front brake hose
- HRC clutch spring
- Billet stator cover
- Bitubo steering damper
- Valter Moto rearset rasier plate
- Clear signal light cover
- Tinted headlight cover
04-03-2008, 11:06 AM
Join Date: Jan 2008
Location:
Posts: 323
RE: ** APRIL SELF PROMO 2008 **
---
Ok its an oldie but a goodie
Here is my 1993 CBR 900 RR
Mods are
\
Custom Rear sets
Two Bros full exhaust
Grips
Custom turn signal front and rear (behind the cf under the clear)
Double Bubble
HID's
Cams
Cam advance
jetted
Vortex sliders
custom hand made tail
tail section is based on the stock skeleton I just tilted it 3" up in back
lowering kit hand made
I have the 17 front wheel but not rnough $$$ for a tire yet
and the SS braided lines are on the way
oh and I did it alll except for the engine, all of it! I did the frame and swingarm in bedliner, the motor in 500 high temp semi gloss paint and the exhaust ...and all the carbon fiber work...I hand made the tail using the top section from the factory tail so you can still use all the stock seats and you now have more trunk space...
ok here are the pics and by the way the 93 RR in the pic with mine is all stock with 4600 miles on it all orig except for tires and SS braided lines. I took these pics for so everyone could see tyhe diffrence from stock to mine
OK look close in the CF between the holes you will see small clear dots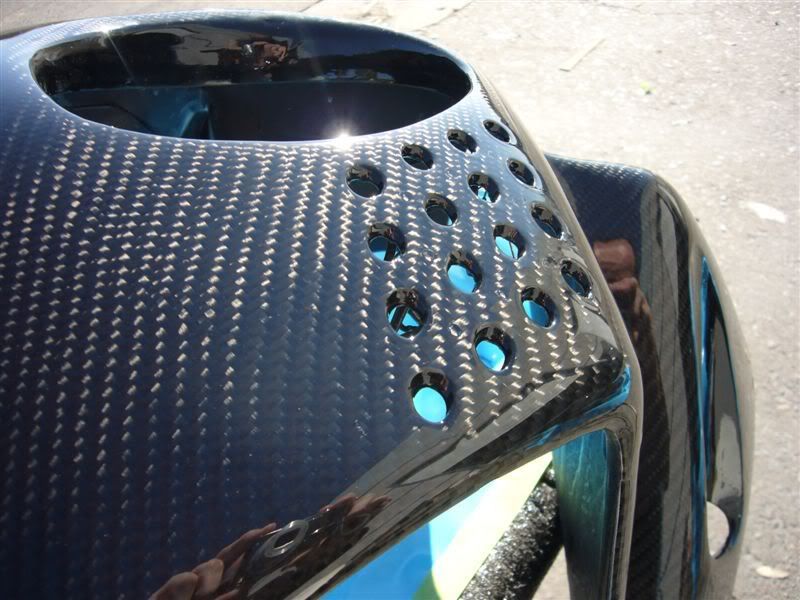 and when the turn signals are on here is what it looks like
04-03-2008, 03:40 PM
Join Date: May 2006
Location: YES THAT IS A 900 ENGINE IN A F2 ON SPRAY
Posts: 1,332
RE: ** APRIL SELF PROMO 2008 **
---
why not! list of mods a mile long and all the work was done myself except the paint.. was in NOV 07 super streetbike and 2wheel tuner.. there are better pics in the photo gallery

started as a stock 1994 600 f2
1993 900RR engine (893cc)
custom paint and airbrushing
10" stretch swingarm with alot of link chain
1998 cbr F3 tail and seat
D&D race series exhaust
Nitrous Oxide 45 shot w/dual purge
15/45 sprockets (-1/+2)
emgo single filters
stage 7 jet kit
lowered 3"
strapped front
98 F3 rear rim
180 shinko 003 rear tire
chrome stator cover
SS brake lines
pig spotter mirrors
taillight integrator
blue neons
anodized brake covers
clear front signals
chrome levers
chrome bar ends
cbr grips
tinted blue screen
tinted headlight
custom radiator fan
billet frame sliders
full exhaust header wrapped
carbon fiber triple cover
clear tank pad
video camera mount
[ol][/ol]

[IMG]local://upfiles/7261/C4B373F458B94EC3B117E2686658ABD9.jpg[/IMG]