View Poll Results: April 2014 CBR of the month
Archie88
26
33.33%
Pugheaven
21
26.92%
Ironhead
24
30.77%
MissBiBi1
7
8.97%
Voters: 78. You may not vote on this poll
April 2014 CBR of the month voting thread
04-15-2014, 10:27 PM
April 2014 CBR of the month voting thread
---
Welcome to the voting thread for April 2014.
Everyone can vote in the poll, but only contestants and staff are allowed to post on this thread. Posts made here by anyone else will be deleted.
Contestants are encouraged to put up pictures and write-ups of their bike here.
Please do not pimp votes in the new member area. The off topic and other bike forums are the more appropriate place for it. However, a mention to vote in your signature line is permitted anywhere on the forum.
Only 1 vote per member is allowed. Anyone caught cheating will be banned for life....
Good luck to all of the contestants!
Here are the the nominees:
Archie88
Pugheaven
Ironhead
MissBiBi1
If anyone wants a different picture here, PM me.
04-16-2014, 12:41 PM
---
First...I love this month's Ride of the month! The baby of the bunch is 8Yrs old. We then have an 11, 15 and 20 Yr old machines. Its a Testament to the in-line and the CBR. I wish all participants nothing but the best of luck.
Here is the complete list of Mods for my old girl. (40K)
• Zero G Dark Smoke Double Bubble
• Motografix Front # Board
• ASV adjustable shorties
• LP Carbon Fiber Frame & Swingarm sliders
• StompGrip Traction Pads
• Hot Bodies undertail kit w/LED signals
• Custom seat
• Hondaline rear seat cowl
• CTS Moto preload adjusters
• Harris "CBR" grips
• Full Race Akro exhaust with carbon fiber can
• Akro carbon fiber exhaust hanger
• Tapeworks rim stripes with RAD stickers
• Dynojet PC3 USB
• Custom Map
• Modified Airbox
• Hi Tech Speed Protons & UFO Rear light kit
• Autocomm Active Plus kit
• LSL 2-Slide Rearsets
• Carbon Fiber Items: LP Air Intakes, OPP Rear Fender, HRC Tank protector,
• *** Racing Radiator Guard
• Custom front brake cylinder cap
• Front/Rear Speigler SS Brake lines with Red banjos & bolts
• Galfer pads. (HH) Sintered 1396 front. Semi-metallic 1052 rear
• Matris M4R Steering Damper
• EDR Billet Stator Cover
• -1/+1 (15/44) Final Drive. Euro version Red Super Sprox Rear/ Vortex counter/ Black EK MVXZ 530 Chain
• Healtech V4 Speedohealer
• Synthetic oil
• Engine Ice coolant
Here is a link to a vid with just Her and I on an outing.
There are additional photos in my photo album.
---
Last edited by Ironhead; 04-16-2014 at

01:19 PM

.
04-16-2014, 06:55 PM
---
Wow... Thats a tough act to follow.
My CBR is pretty much stock. I was 6 years old when she was born. After 33,000 miles she runs like she just rolled off the dealership lot, smooth as glass. The only mechanical mod is that i just put on a set of yoshi pipes which used to be worn by thedrewski86's black beast.
The other mods are mainly for touring.
-A tank bag with a custom wired 12v power plug which i plug my GPS into. the bike has a 4-pin trailer wire connector wired in in front of the gas tank which the bag plugs into, and then the 12v plug is inside the bag.
-roll on cam style throttle lock. the outermost weighted piece of the right hand grip rotates to lock the throttle in place.
-hazard light switch
-small digital clock custom-velcroed to the dash
Other than that she's stock but very clean.
04-17-2014, 12:42 PM
---
Archie....My first "real" bike was a brand spanking new. White/Red 1987 CBR600F (Hurricane). I loved that bike! All 85 Hp....I remember drooling over its Big Brother the CBR1000F. I wanted that machine so bad. I was willing to donate both man berries to have it! Just wanted to get more experience in the saddle before I mounted that beast.
04-17-2014, 06:03 PM
Say Hello To "Eric"
---
OK guys, best of luck to everyone, looks like you've got a head start on me lol :-) Some gorgeous bikes here... lets give you the low down on my 15 year old beasty!!!
History - Well, passed my direct access course (UK) which gets you on the big bikes May 2012... so only been riding two years. Now 39, think I'm not the idiot I was when 20 so may last longer. Once passed, I'd used a Honda CBR125 to practice on, and loved it to the point I did 800 miles on it to learn my trade a little, then wanted a 600. Looked at Fazers, SV650's... but kept coming back to the CBR600 F4 and F4i's... because I personally think the best years of super sport bikes are around 98' - 2004 looks wise. So, "Eric" was found, originally only a 99' color of yellow and turquoise... very unusual and very 90's... perfect. 8,300 miles on the clock for a 13 year old bike and cost me £1,600... barely used... since then in two years he's now on nearly 21k miles and never missed a beat... would I get rid of him? Not in the slightest... it's perfect, easily fast enough for me, handles like a charm, looks fantastic... nothing out there makes me smile like this CBR600F4...
Since then, I started replacing bits and bobs and in the end he's changed quite a bit but still keeps the essential 99' look... hope you guys like the changes I've done.
The last two pictures are how he originally looked when I bought him.
List Of Mods:
Devil Stainless Exhaust System,

OSRAM W5W 5w (501) HALOGEN COOL BLUE 4000k Sidelight & OSRAM H4 COOL BLUE INTENSE XENON LOOK 4200K Headlight

Custom Seat with Yellow Piping (Soon to be replaced with custom one off),

Custom Tail Tidy,

LED Front Indicators,

LED Integrated Tail Light Cluster with LED Amber/Blue Wing Mirrors,

Blue LED Fairing Kit,

One Off Custom Seat with thicker foam and lower support,

Toby Ducatti Style Front Steering Damper (Anodised Blue),

"ProGrip" Grips,

Chrome Brake Fluid Lid,

"Shorty" Adj "Pazzo" Levers,

10" Tablet/SatNav Holder,

K&N, Iridium Sparks, Carbs Rejetted.

Wavey F/R Discs,

HEL Transparent RED Braided Hoses Front & Rear,

EBC Racing Pads,

Renthal Chain, Renthal Front Sprocket, Sports Sprox Rear Sprocket,

Hand Polished Chrome Petrol Cap,

Lust Racing Crash Bungs,

Krauser Rear Bracket (used for touring top box),

Pirelli Angel GT's with 180 rear, Rim tape/decals with white wall tyre lettering,

Red Anodized Oil Cap,

Stomp Tank Grip,

Chrome Heel Plates,

Carbon Tax Disc Holder,

Centre Stand Removed.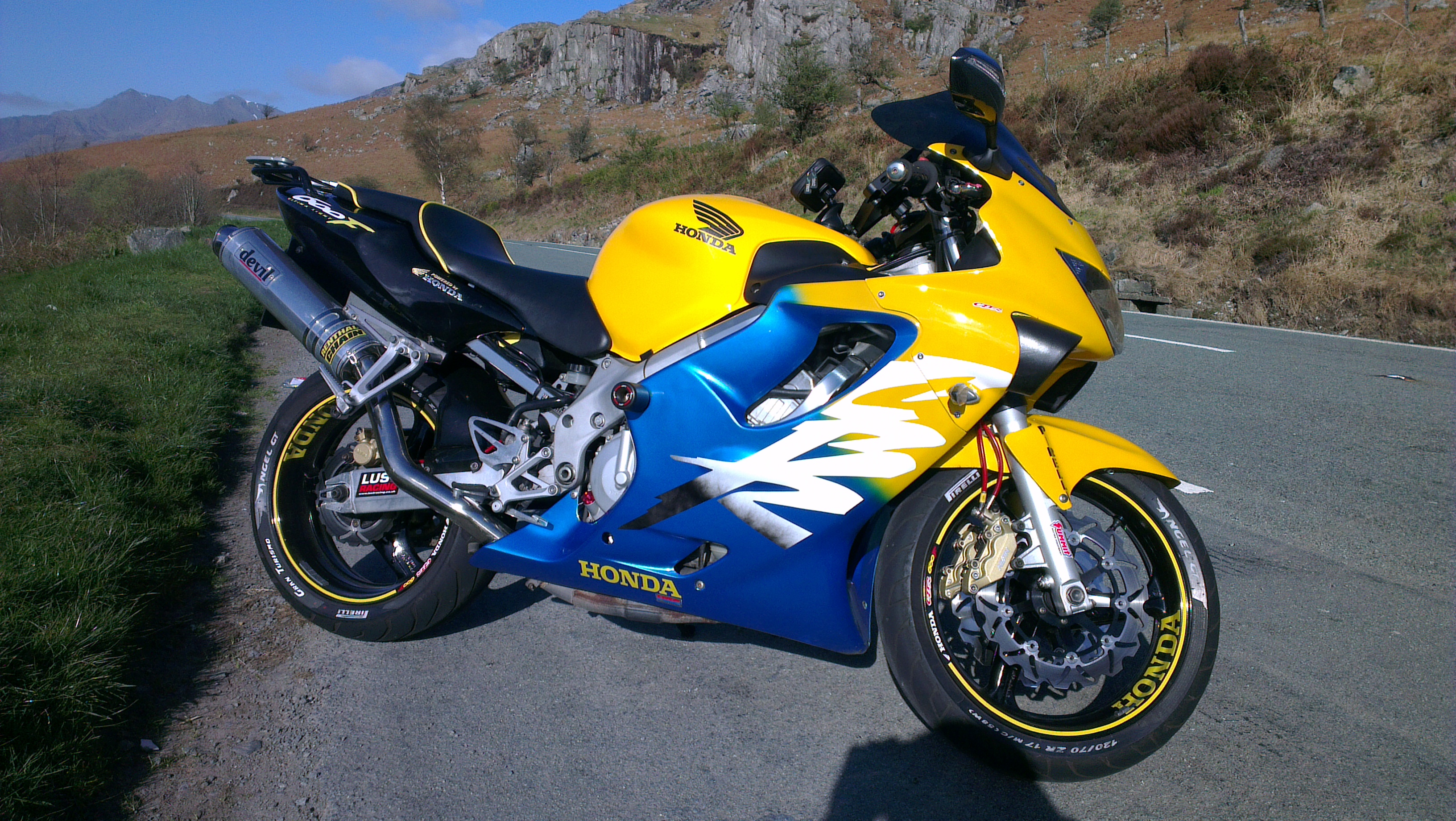 NOW WITH ADDED BITS:
He even doubles up as a tourer when we did 4,500 miles in 13 days last August!!!
And this is how I bought him:
---
Last edited by Pugheaven; 04-30-2014 at

04:40 AM

.
04-18-2014, 12:33 PM
---
Pug....

If you can Play Call of Duty on that bigscreen while you are riding.....You win by default....
04-18-2014, 12:54 PM
---
hahaha I'm a Battlefield and Counter Strike man myself... it's a bugger controlling the game with the pad while riding though lol.
Hey man, tell ya what in all seriousness, you can put a 10" iPad in that thing, it's amazing... basically goes on the top yoke hole, three pronged attachment... used them for a while and then just put the holder on... from a place called
Ultimate Add-Ons
... perfect for the SAT Nav tbh... and that Sat Nav system I have there was £19.99 2 years ago and never let me down... 7" screen... was going to put my Nexus 7 (as I've got Co-Pilot on it) in the holder this morning, but couldn't' find it lol.
04-18-2014, 03:09 PM
---
That is where my Dampner lives.....The 954 is well known to shake its head alot when being wrung out....That thing has saved my bacon way too many times.
04-19-2014, 03:24 PM
---
What damper you got? I was thinking of Ohlins or Toby or HyperPro... as they attach to the tank by the looks of it... I'm assuming yours is GPR or Scotts?
So, does it really make that much difference?
04-19-2014, 08:36 PM
---
I run a linear damper. Matris M4R. For everyday, street riding. It doesnt come in to play very often. Trackdays are a different story. I honestly would'nt go out of the pits with out it.