Refreshing my F2 '92
05-04-2014, 02:51 PM
Refreshing my F2 '92
---
So finally I got some work done on my bike.
Before the winter I took of brake calipers and cleaned them... and that's about it.
In the last few weeks I finally had some free time to spend in garage and work on the bike.
And here we go:
It took some struggle to remove the pistons, two of them had stuck and rusted in. Ordered replacements and new seals form ebay.
Nevermind the struggle with pistons... this little screw was a real pain in the...
Finally I got the screw out and luckily found a replacement on ebay.
I assume because of the rusted pistons the brake pads is looking like this? One piston was stuck in both front calipers.
Clean and shiny and ready to be painted.
Really pleased with the result. Although I had to completely repaint the front calipers. Had to find out the hard way of just how aggressive is brake fluid on painted surfaces.
As much I like the caliper it will be almost invisible because of the exhaust.
After the calipers its time to take on the rims.
Rims had to be resprayed three times to get a descent result. Eventually this is the result.
White rims just looks so much better then the old ones.
Decided also to paint the "brake disc holder/adapter?" Replaced the old screws with new fresh ones and greased the threads.
I guess that these are not standard f2 rims?
After painting everything on the rims brake discs are straight thankfully. New seals and pistons working nicely but the brake leaver still feels quite 'squishy'. Somewhere must be a leak in the master cylinder. Under master cylinder is a small drop of brake fluid all the time. Wiped every thing clean and dry still after time there is a small droplet of brake fluid.
Calipers done. Rims Done. Time for the fairings.
Painting the fairings is more much more difficult than I imagined. I had to repaint the fairing a lot of times. Made a few rookie mistakes that resulted in repainting. Finally got it right and the result is pretty nice. Paint is pearl white. As I understand pearl paint is one of the most difficult to paint.
Still a lot of work to be done. Painting is painfully long process.
This is how my bike looked at the end of the season. Got about 15k kilometers on it in the season.
Doodling in the long winter nights I came up with a design that I want to achieve.
I'm open to any advice as I'm painting for the first time ever and there is a lot to learn.
Will keep you posted on my results.
Wish me luck and patience
05-04-2014, 03:23 PM
---
-Sure aren`t F2 rims. dunno where they are from.
-Yes the stuck pistons will do that to the brake pads.
-Nice work on the calipers, looking good. And yes, you cannot let any brake fluid on any paint, specially fresh. Learned it the hard way myself after spraying filler, basecoat, color and three layers of clearcoat water sanding between every phase on a pair of rims, dropping fluid on the finished surface and seeing the paint peeling off the next morning..
-Pearl paint is the hardest to paint, even the way you hold the can (or spray gun) will affect how the end result reflects light.
Your decal plans look a bit like one of the originals: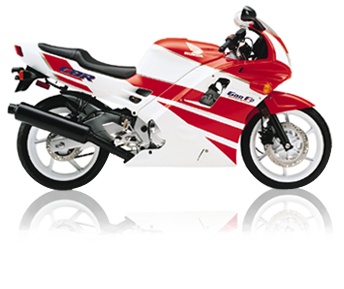 Again nice work so far, keep it up!
05-29-2014, 08:29 AM
---
Progress is painfully slow but still its better than no progress at all.
After finishing the base color I could not stand it anymore. I had to take her for a ride.
So I put everything together and went for the 1st ride of the season.
I just cannot describe the feeling of finally getting on the road...
Here are some pics:
Got a new Sebring Evolution muffler. As far as I know, Sebring is German made and it is same company that makes Remus exhausts.
Very satisfied with the muffler and it sounds great. Nice deep tone.
Here is a small clip with drive-by
I don't really know why but the sound of exhaust spitting makes me smile
This is my old muffler and as you can see it looks like the previous owner has repainted it with some sort of paint that is not coping with high temperatures. Also it had a metal pipe welded inside of it... I really do not know why. Off-course the sound was quite bad.
This is very useful
It has the clock and the temperature feature. Just got it at local diy shop and some double sided tape did the job. Also it should be waterproof but Im not sure about it.
Received the larger double bobble windshield it did not fit at first but with small adjustments I got it to fit. Of-course ordered it form ebay.
---
Last edited by discobear; 05-29-2014 at

08:35 AM

.
05-29-2014, 08:46 AM
---
I was so concentrated on the paint and stuff that I completely forgot about the technical stuff.
Guessing the annoying rattle sound is coming form the cct? As I have to stock automatic cct and the bike has 50k km on it.

Also I have a question regarding chain.
I am cleaning chain almost every 500 km and lubricating it.
Yesterday I tightened chain with 2-2.5cm of chain slack measuring from the bottom of the chain.
As bike is standing on the rear stand I put it in 1st gear and wanted to quickly brush of the dirt form the chain I noticed that the chain is "jumping" up and down and a knocking sound is coming form the front sprocket.
Is this normal? Or may this be result of uneven chain stretching?
Both sprockets and chain was replaced in the middle of last season.
05-29-2014, 03:43 PM
---
Looking good man!

On the chain, the first thing that comes to mind, is binding links, but that would seem odd with the chain being relatively new, and with frequent maintenance, unless, it as a crap chain... what brand is it, and what chain lube do you use?
05-31-2014, 04:51 PM
---
Well yesterday was one of those days when everything was going wrong...
After a very long day I finally got to the garage and well... evening in garage went also very wrong...
Long story short I dropped the bike
Bike slipped of rear stand right peg and fell over resulting in broken right front upper fairing and scratched mirror. Thankfully frame slider protected the side fairing and tail is fine. I did not secure the rear stand properly and did not noticed it...
This morning I decided to leave the stripe painting for 'later'. Probably after the season. 1/3 of our short riding season has already passed, so its time to finally go and ride.
Got a few stickers to put on the fairings so its not all white. Looks a bit 'empty'. So this is how my bike is going to look for this season.
This is the paint I used for the calipers. I did 4 coats of paint and 2 clear coats.
This is what Im using to clean and lube up the chain. I do not remember the chain brand.. well I hope its not complete crap, at least the guy in the shop told me that this is 'average' level chain.
Inspected the engine sprocket and there was no abnormal signs, the nut was thigh the sprocket teeth was not worn out.
I guessing this may be because the engine is not idling smoothly and that may cause the the chain jumping?