My 91, 600fm
11-04-2017, 08:22 AM
Join Date: Jun 2017
Location: East Anglia, Suffolk
Posts: 15
My 91, 600fm
---
Hello ladies and gents,
Sorry this turned out to be a little long winded. Just a bit excited with this bike!
After a 25 year hiatus from riding (wife, kids and a stupid yet noble idea of giving up riding so I would be here for them in the future at the age of 21)
I decided it was time.
I bought a 93 ZXR 400. It was a wreck. I rebuilt it and loved it. But I could only love it for 30 minutes at a time. Anything longer and my wife would have to push me off of the saddle because my back and lower joints would seize up.
Sadly I sold it because it was too uncomfortable.
6 months later and my son-n-law bought a ZX6R. That was fun to ride. I completely forgot why I'd sold my ZXR so I bought another one.
Didn't take long to jog my memory.
Had to let it go. I do still love the little pocket rockets and I'm considering buying another. Just to have mind. Not to use as a mechanical chiropractor.
Searching on Fleabay and I came across a 91 fm just outside of Wales. However I'm on the east of England. Still a road trip began and the closer we got the more excited I became. All the tension and eagerness built to a raging climax and when I finally set eyes on her I thought "Ohhhhhh wow, you're going to need a lot of work".
Almost left it there. But we'd driven so far. Screw it! I took a chance.
Got her home and off the truck. Thought I'd have a cheeky wheel spin in the drive. The f*cking noise of the clutch dying left a hole in my heart.
The look on my wife's face because I'd bought it said she was going to leave a hole in my head!
So a whole new clutch later, forks rebuilt (because they also spunked their contents all over the place 2 seconds into being compressed during said wheel spin). Kind of like me after heavy drinking with my girlfriend when I was 18.....
New clutch cable and gaskets. Oh and I had to drill and tap a new exhaust stud because some w*nker decided to do a Mr. Bean repair job on it.
Out for its first run. 30 minutes into it and I'm feeling good. No pain in the aging extremities.
Then she starts spitting and sputtering. Kind of like...erm never mind.
Broke down, 30 miles from home.
I'm thinking at this point, possibly, hopefully a spark plug is fouled.
Got lucky. There's a Halfords down the road.
No tools on me at all so £100 later I have a new set of plugs and the tools to change them.
Not a bloody fun job in Halfords car park with a hot'ish engine and stupid me trying to change them via the access panels that were made for Japanese hands.
Heading home, starts missing again. I limp home. Park her up and with a look of disgust I decided I'd had enough.
A few days later I bought a 2001 Aprillia Falco 1000cc. Rode it for a bit but kept looking at my CBR as I walked past her to get the Falco out.
2 months later and I thought I just couldn't let her end this way. She is a 91 model. I met my wife in 91. Our son was conceived in 91. (Yes, that mans we had sex. Yes, I lasted longer then my fork seals. No, I wasn't drunk).
I sold the Falco and invested all of my resources (meaning my wife's money) into bringing this old girl into the modern age.
First pic is when I bought her.
Second is just before breaking down on me.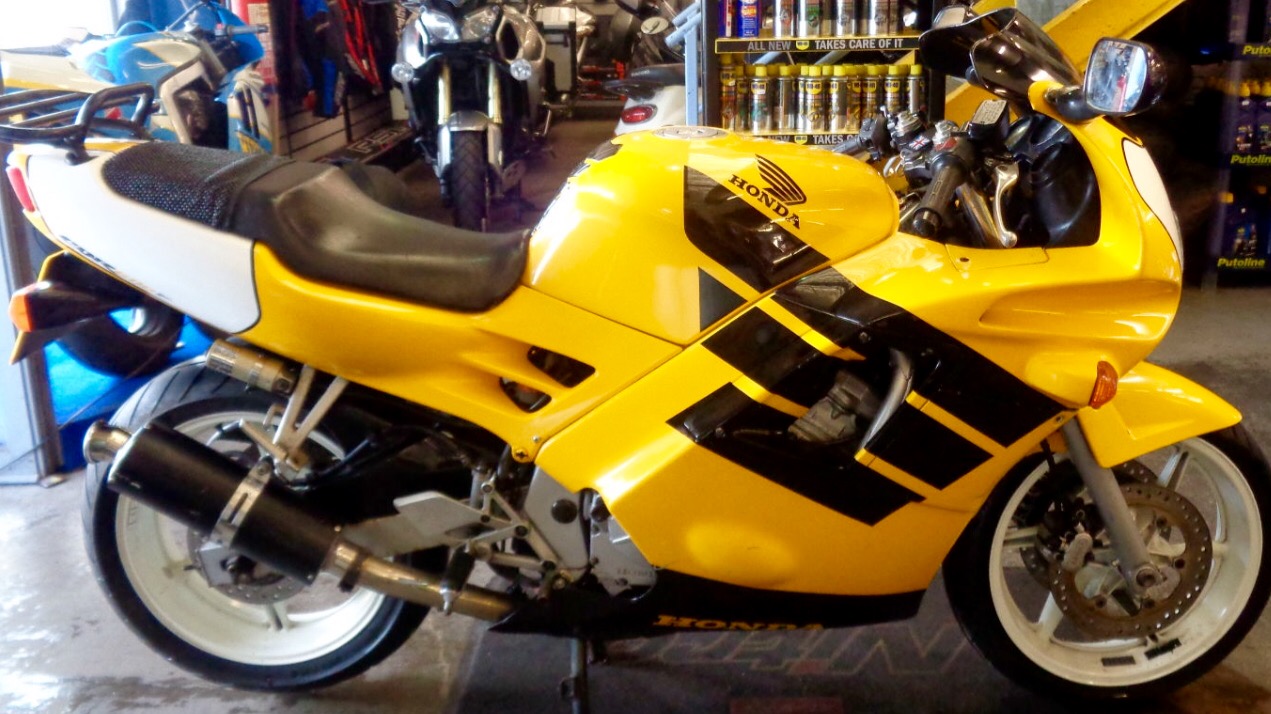 In these photos she doesn't look that bad to be fair in black and yellow but photos can leave out the details. These fairings, swing arm, rear sets etc were actually in much worse shape than they look.
The rear brake was very squishy and offered almost no help in stopping. I checked the pads and ordered new ones. Then I had an idea to check the brake line. Sure enough as I pushed the brake lever down I could see the flex line swelling.
Ordered Hel's braided brake line in bit of a Kawasaki green.
Replacing the brake and found a chunk of plastic missing from the rear hugger.
Removed the hugger for repair and found ...... yes you guessed it. The swing arm looked like it had been recovered from the bloody Titanic.
Swing arm removed. Called PowderPlus in Haverhill and asked how much to blast and powder coat the swing arm and rims. The paint on the rims was 26 years old and pitted. Could never get them clean.
Sent those off.
New wheel bearings and swing arm bearings, seals etc ordered.
The fairings were simply f*cked. Broken lugs. Cracks, stone chips everywhere. It had been down in its life and repaired / resprayed. Not very well though.
So in total:
New fairings ordered.
New HT leads ordered. (Costly!)
Swing arm powder coated.
Swing arm bearings.
Wheels powder coated.
Wheel bearings.
Hel braided brake lines front and rear.
Oil and filter change.
Spark plugs.
New clutch (springs, friction plates and steel plates).
Clutch cable.
Fairing bolt kit. (My fairing bolts looked like they'd come from the bottom of a plumbers tool box)
SES Racing rear sets. (These took a bit of modifying. Had to remove the original brake light switch and opt for a pressure switch. Also had to fabricate a linkage from the brake lever to the master cylinder). Good times people, good time.
Double bubble windscreen fitted.
As she looks now.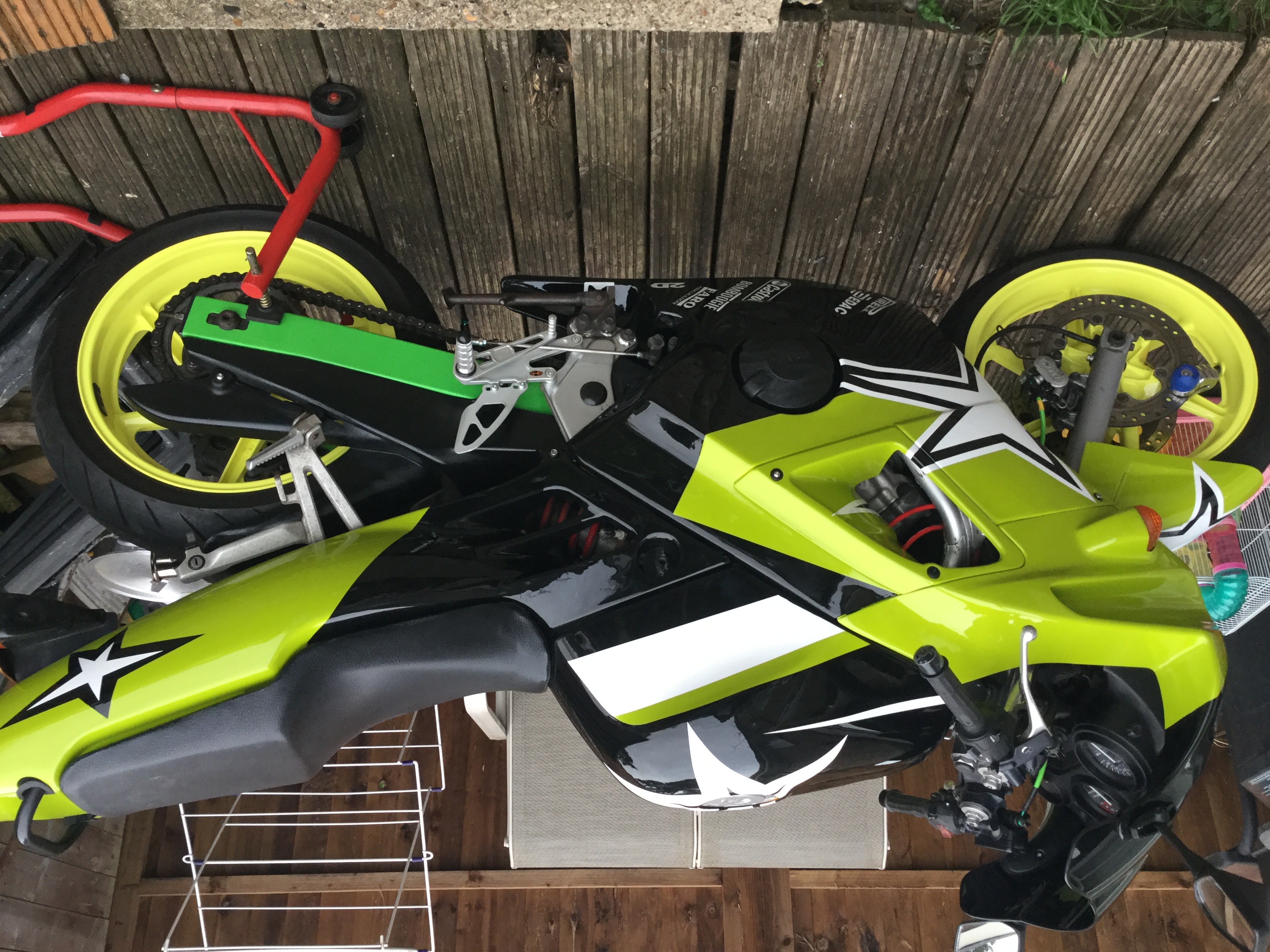 Finally found a rear seat cowl on Fleabay. These things are like hens teeth!
Oh, also had to order a new rear brake line because the master cylinder gets relocated with the new rear sets so the line was too short. D'oh!
Things to be done:
Wavey disc's to be ordered.
Powder coat the rest of the frame. Powder coat the fork stancheons as well to match the swing arm. (Next winter project)
Possible ZXR 400 front end upgrade (to be honest I don't ride her hard enough to push the standard forks to their limit so I may not bother)
Considering purchasing a second engine to rebuild.
Heated grips.
Anodised brake callipers.
Possibly more.
Will have to see.
When did Photo Bucket become so ****!
Take care!
---
Last edited by Rhokkin; 11-08-2017 at

08:25 AM

.
11-04-2017, 02:33 PM
Join Date: Jun 2017
Location: East Anglia, Suffolk
Posts: 15
---
Thank you for the compliment.
I had thought about the RR upgrade but I didn't want it not look like it was made in 91.
I still wanted it be a 91 model. Just wanted it to look as good as it did in 91.
Oh no that deck is proper f*cked! That deck (like me) looked so dam good 7 years ago.
However, (unlike me) it rotted out after 5 years.
It seems my neighbors back gardens are slightly more elevated than mine which I didn't take into account when I built it.
So as it rained. Over time, their gardens washed under it and rotted it from the inside out.
Kind of like my ex girlfriend's heart.
Cheers!
---
Last edited by Rhokkin; 11-05-2017 at

01:51 PM

.
11-08-2017, 08:15 AM
Join Date: Jun 2017
Location: East Anglia, Suffolk
Posts: 15
---
Today I finished fitting the rear seat cowl.
I also realised I didnít have a picture of the other side of the bike.
Not sure I like the sticker bomb effect on the cowl. I like how it stand out just not sure it goes well with everything else.
May just go black with it.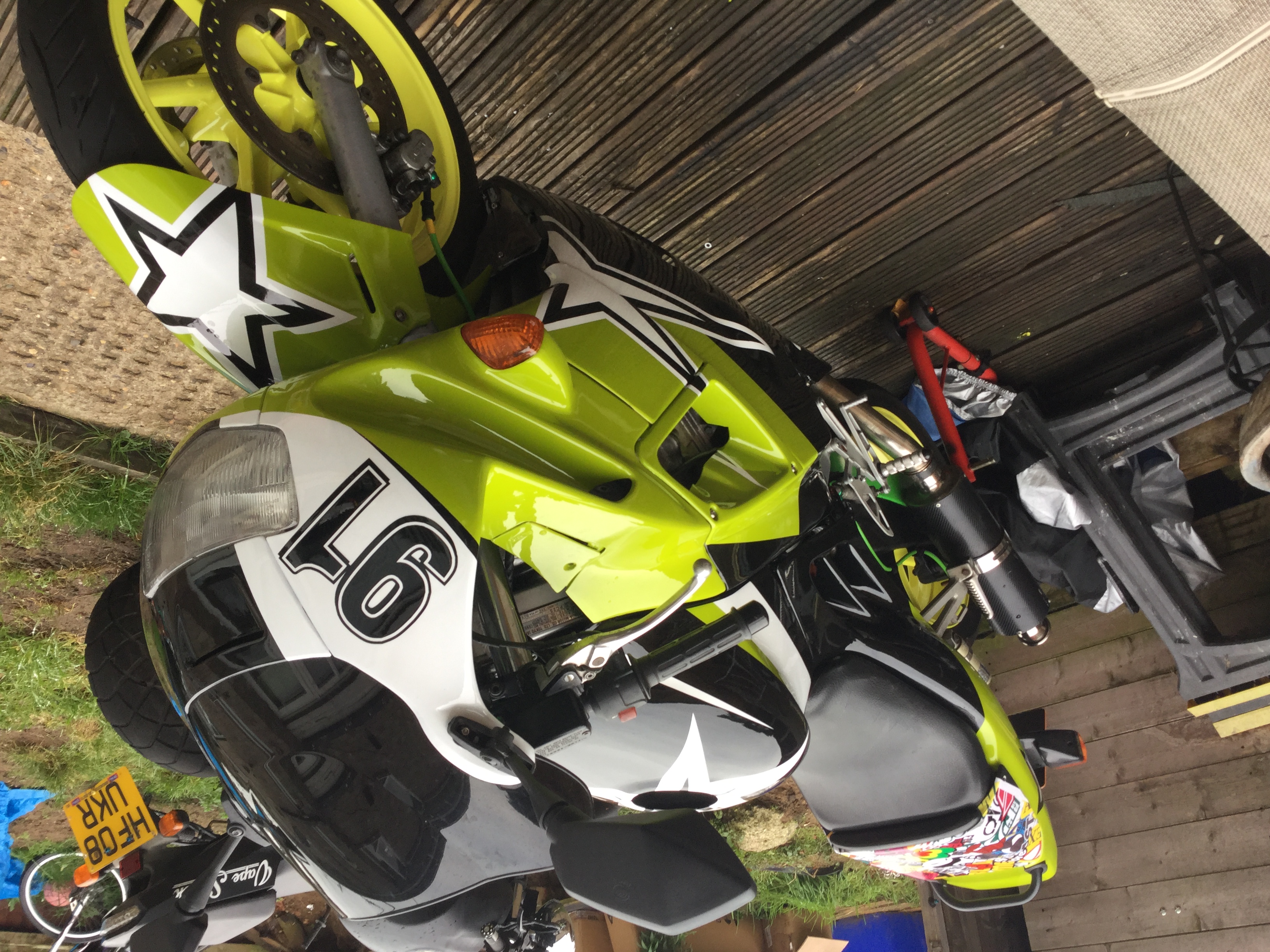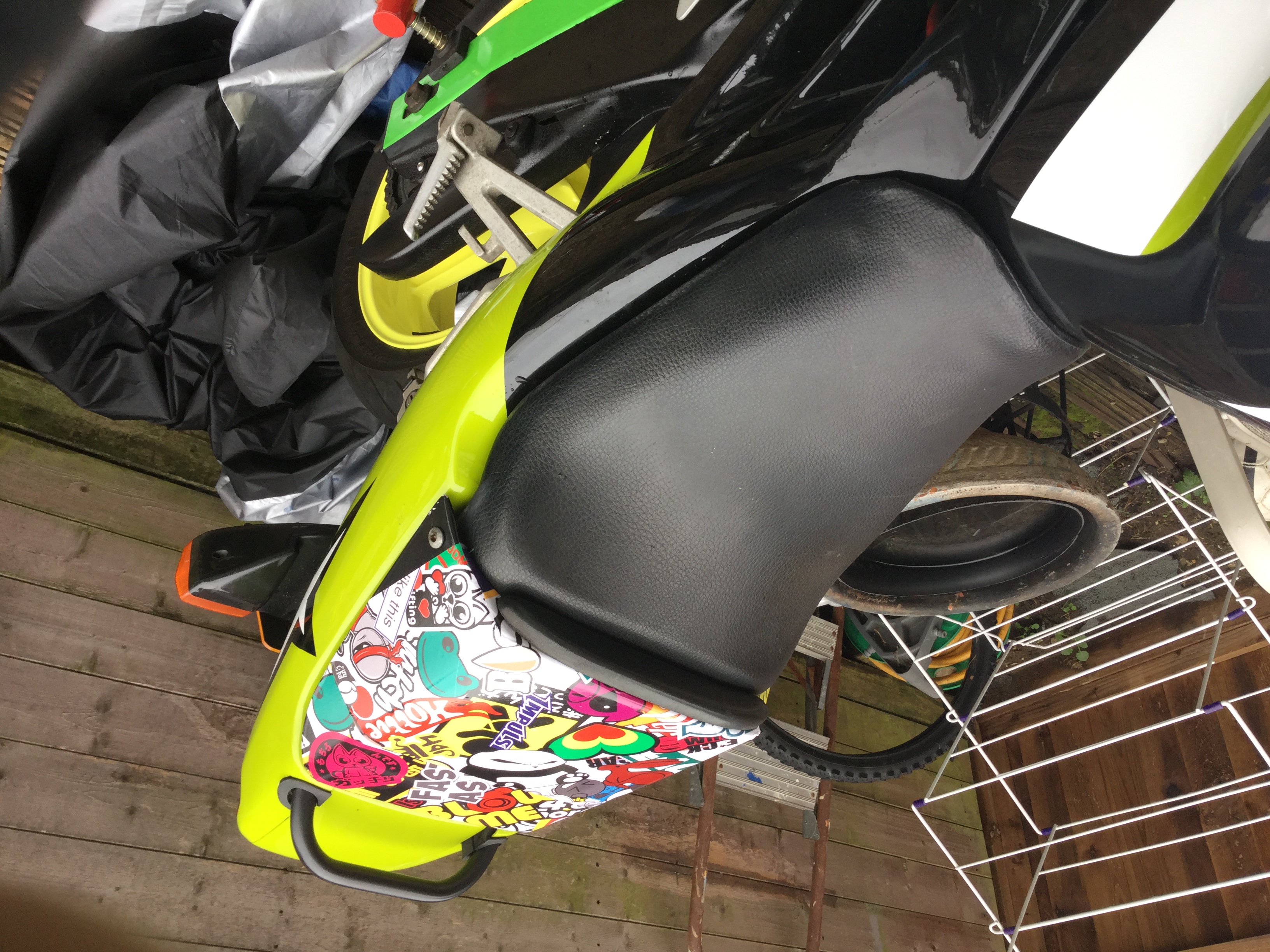 11-15-2017, 07:30 AM
Join Date: Jun 2017
Location: East Anglia, Suffolk
Posts: 15
---
In the logbook it has the date of first registration as 1st of July 1991.

I'm going to have to do some research. I didn't actually consider anything had been changed / upgraded on this bike.
11-15-2017, 07:37 AM
Join Date: Jun 2017
Location: East Anglia, Suffolk
Posts: 15
---
Iíve pretty much finished it now.
Had the chance to take it for a bit of a ride today.
Couldnít use the tank cover. It simply wouldnít line up.
Iíve had the tank blasted and resprayed black and the added the decals.
Rim stickers finally on! I was going to put some big fat stickers on the rims but sometimes less is more.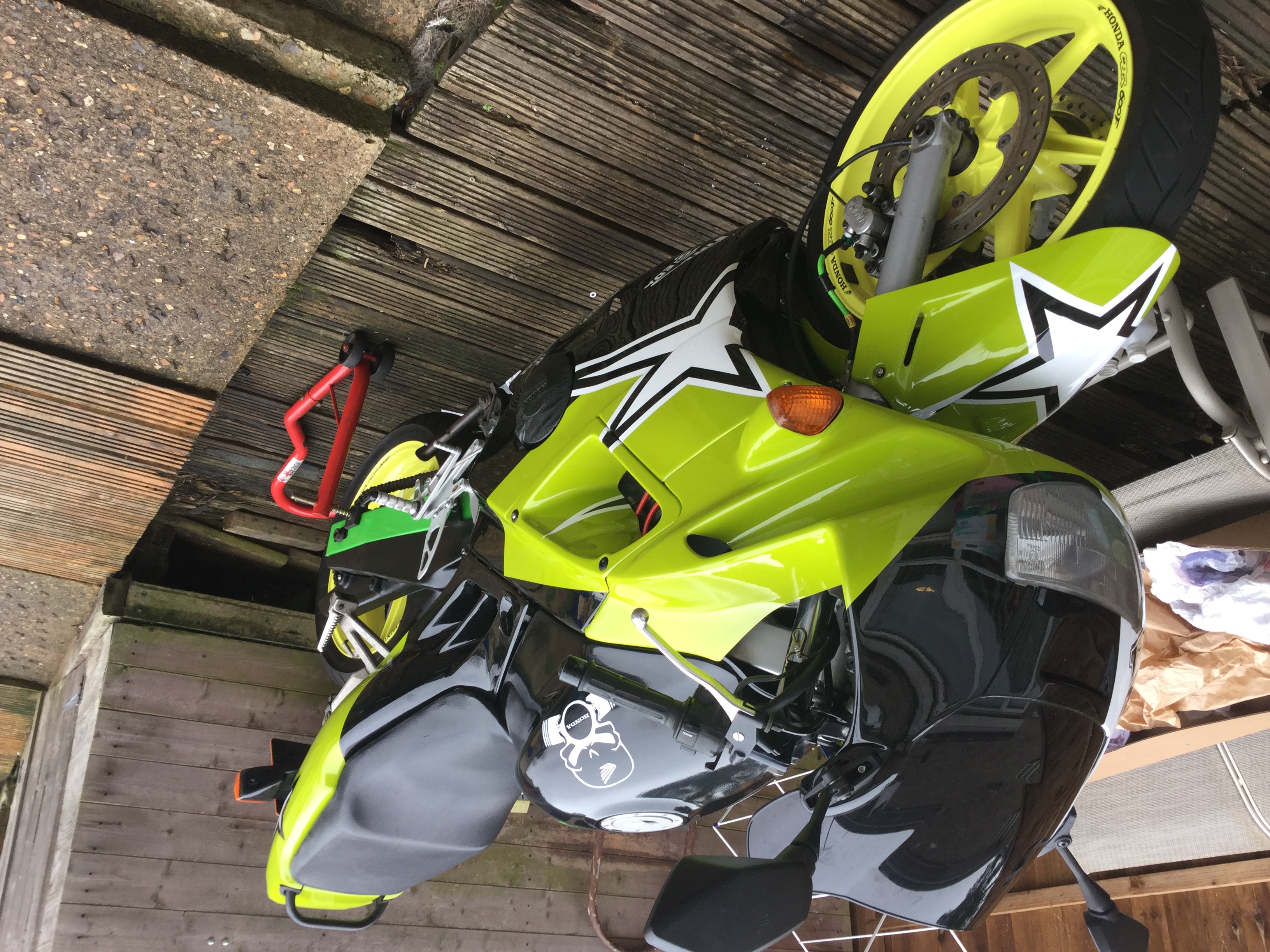 Thread
Thread Starter
Forum
Replies
Last Post