Trackday pics NC BIKE Sept 10-11
09-17-2016, 12:29 AM
Trackday pics NC BIKE Sept 10-11
---
And also tried my first trackday on a supermoto as well.... and I must say, it was a lot of fun! Despite getting passed like I was standing still in the front straight.... oh well I expected that. I'm just gonna give a fair warning..... lots of pics, lol
Anyways..... so I was planning on doing a trackday this past weekend anyways with the F4i out at NC BIKE in Garysburg, NC (one of my favorite tracks!). But I've also kinda been wanting to try a trackday on a supermoto as well, as I've never done it before. So kinda last minute decided.... why not take both bikes?? This particular track is a pretty big and fast track.... not really suited for supermotos, especially a little 200 like mine, but figured I'd give it a shot anyways
So Friday morning I loaded up the steeds and made my way towards the coast
Pitted with my buddy Mike with the orange R6..... I often ride dirt with him as well, he has an '03 YZ-250
I took the F4i out the first session just to get back in the swing of things on something I was a little more familiar with, as it's been a few months since my last trackday
Then 2nd session it was time to give the little green tractor a try
It's like she was a natural
Hey there
She did great her first time out... I had a blast! COMPLETELY different style of riding from a sportbike, it took a little getting used to being that you can't really hang off of a sumo, so you have to find different ways of shifting your weight to compensate and keep from getting too much lean angle. Something else really weird...... certain corners that are perfectly smooth on a sportbike, were rough as crap on the KDX.... weird. Anyways, from here I ended up just alternating bikes each session..... so a few more pics of both
Ol' smoker going for the pass! Haha
And then getting passed, lol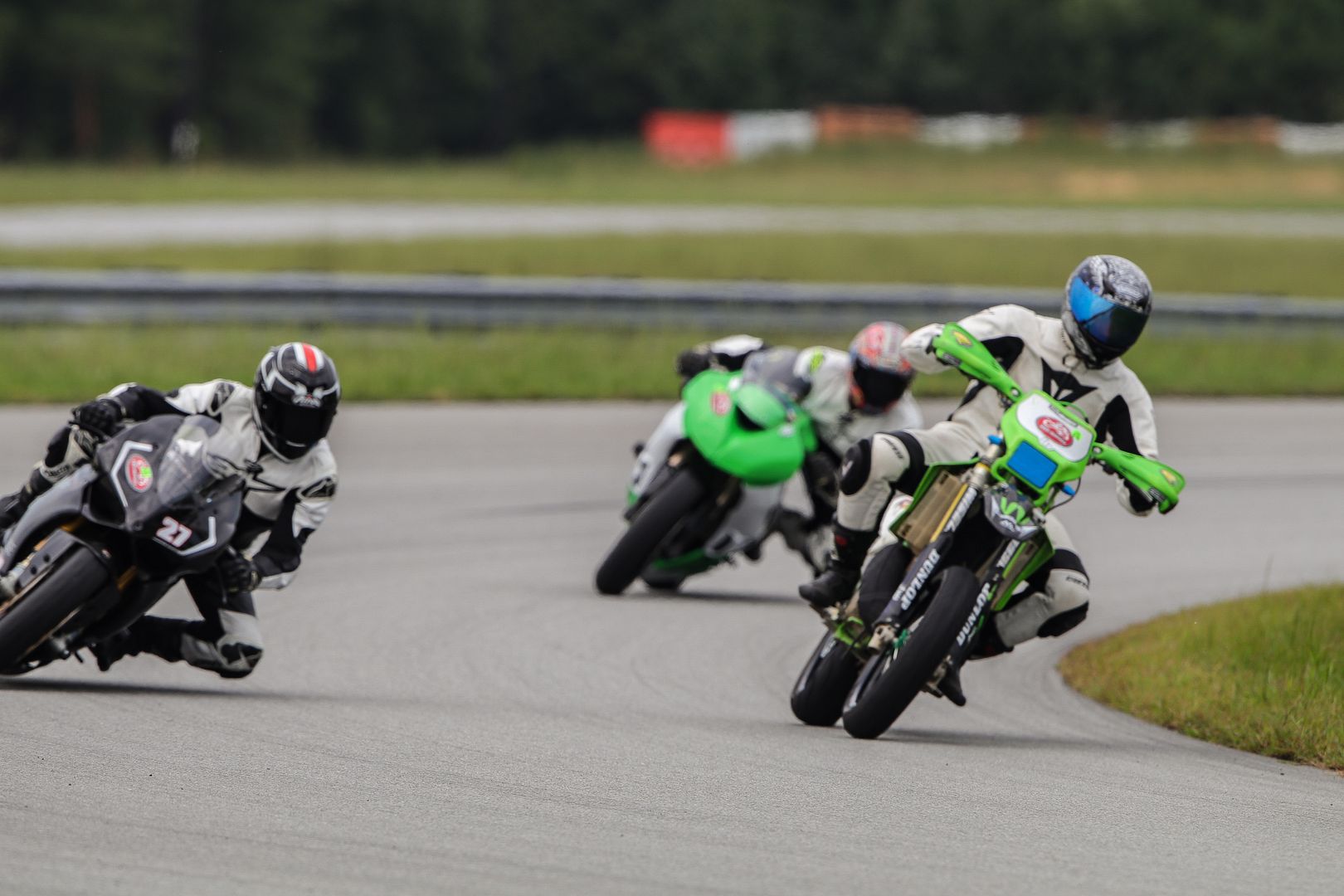 09-17-2016, 12:33 AM
---
I did have one little get off on saturday right before lunch..... not really even sure exactly why it happened or what I did, but somehow tucked the front going into T11 (which is a tricky turn that has bit MANY). Luckily all I did was lowside..... slid a few feet and went into the grass. This particular turn is notorious for highsiding everybody, so I'm really glad it didn't go that route. But of course I had to pick the corner the photographer was at to crash, lol. And luckily I was absolutely perfectly fine.... not so much as a scratch. That's why we wear gear.... and lots of it
Doing the "wait of shame", so the crash truck could come out and pick me up, and do the "ride of shame" pack to the paddock, lol
Damage was very minimal, luckily. A couple scratches in the plastics, bar end, and brake lever.... worst was a broken foot peg and bent rear brake pedal. I was able to source another peg and get that replaced, and bend the brake pedal back to about normal, and get back out there
One of the rider coaches was out there for a little bit on his CRF-450x sumo. He also rides a Ninja 300 as his usual track bike. His wife rides a WR-250 sumo.... she was out there too, and right around when this pic was taken she joined in too and the 3 of us on sumo's came together and rode in line for a little bit. Was hoping he would get a picture but he missed us
Everybody survived the first day
And back at it sunday morning. I learned a lot from riding it saturday, so sunday I was trying some new things with getting my weight shifted around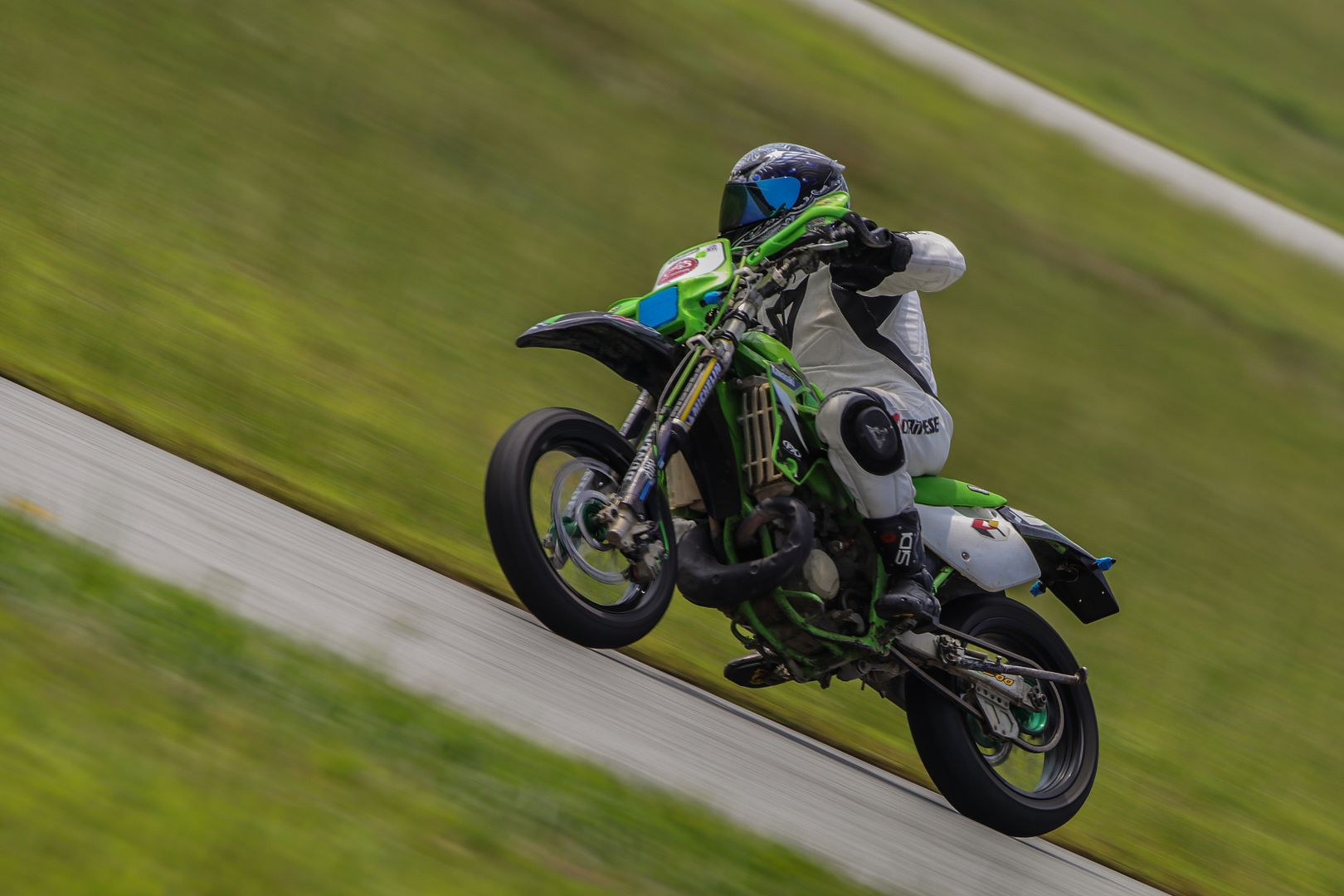 Behind the same guy I had passed on the KDX, and then my buddy Mike behind me
Whheeeeee!!
My buddy Mike.... going for the pass!! LOL
Ok I guess everybody is passing me, lol
End of the day sunday, everybody was still in one piece, so we packed up and headed home
And if you ever wondered..... yes, a KDX-200 can indeed ball up a tire, lol
And if anybody cares.... my buddy Mike followed me for a session with his GoPro. Sound kinda sucks but you get the idea
Anyways, that's all I've got..... sorry for so many pics, and I know a lot of them look about the same.... but our photographer is awesome and takes some killer pics (IMHO) so I had to post a few.
09-27-2016, 04:29 PM
---
Looks like a fun track! ever thought of getting track bodywork? bought the hot bodies kit for mine last fall when they had a buy one get one offer.
the fitment isnt perfect, theres a small gap on either side where the belly pan meets the upper, next to the radiator. Both the tail and belly pan took a little trimming here and there to get them to fit, but all the dimples for the holes are where they should be so install was pretty straight forward. all in all not bad for $350.
Thread
Thread Starter
Forum
Replies
Last Post