Motorcycle Garage Service Mat/Rug - Ebay
03-06-2011, 11:12 PM
Join Date: Mar 2011
Posts: 30
Motorcycle Garage Service Mat/Rug - Ebay
---
So I did a couple reviews on 600rr.net and just wanted to share them with you guys. Tell me what you think. Thanks!
REVIEW: Motorcycle Garage Service Mat/Rug Yamaha, Honda, Suzuki

-Why you decided to purchase the product -
I was looking to buy something to put my cbr on, since I had it on tile floor, I also wanted something to protect the floor
-Where you bought it from -
Ebay:
http://cgi.ebay.com/ebaymotors/ws/eB...=STRK:MEWNX:IT
Website:
http://2wheeldiscount.com/
-Price -
$70.98 shipped, more from the website, its cheaper on ebay
-Did the product meet your expectations? How/Why?
The product meet my expectations, I was just looking for something to accent the cbr when it is parked. I read some where that it would help prevent flat spots in the tires also, not sure how true that is.
-Would you recommend the product to others?
I would definitely recommend it, it does a nice job spicing up the area. I would recommend the one that says honda though, since the bike covers up the cbr when it is on it.
-Would you buy it again?
I would buy it again, but probably a different design, since its covered when the bike is on, but looks good without the bike on it.
Here is the box it came from, pretty fast shipping, ordered monday, arrived friday
The mat wrapped in plastic
I picked the red cbr, looks like the older version, but close enough, lol. They have different designs.
The back is textured and ribbed to help prevent movement
Here is the bike on the mat. It fits pretty well, but covers up the design. If you have an extended swing arm, I don't think it will fit though. Here are different pictures to show how well the bike fits on the mat
You can also see how the bike covers up the design.
Here is a pic with the bike on stands, you can see more of the mat, looks really cool.
They also have this design: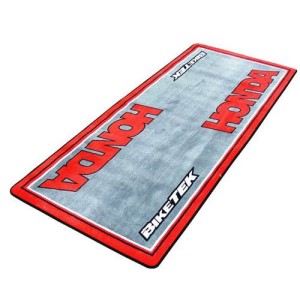 Overall, this is a great product to add a little flavor to where your motorcycle resides. 2wheeldiscount shipped it pretty quick also. This is my first product review, so please be easy and I hope it helps someone on the site. Thanks!
-Baka
Thread
Thread Starter
Forum
Replies
Last Post