How To Install Power jack/Simple Connect/Disconnect for your battery tenderizer.
02-14-2012, 02:53 PM
Join Date: Mar 2010
Location: Fayetteville, North Carolin
Posts: 120
How To Install Power jack/Simple Connect/Disconnect for your battery tenderizer.
---
This makes my life easier so it was worth the 10 bucks it cost to do.
You need:
Cigarette Lighter jack (bought at walmart for like 3 bucks)
Wire with inline fuse (I had one but I'm sure they are sold at radioshack for cheap)
2 round wire connectors (not sure on the size but be able to fit under a bolt for ground and a bolt on the positive battery connector)
Optional:
Cigarette Lighter plug (bought at walmart for like 4 bucks)
Battery Tenderizer
Don't skimp on the wire no smaller than 14 gauge copper wire!
Pick a place on your bike you want to mount your power jack. See the pictures below for where I chose.
Run your wire in a safe manner, zip ties etc.
I prefer solder and heat shrink for all of my connections. Aircraft maintenance has made me picky though....
I hook into the hot side of the starter solenoid for my constant power. Just looks cleaner with the boot and makes it easier to mess with the battery without wires everywhere.
Keep your fuse as close to the battery as possible. Do not put it near the power jack as it will not do its job if there is a short.
Pick a solid ground.
Once you have the jack wired up plug a phone charger in and test it.
If it works than you can make your life easier with a plug in battery tenderizer.
I clipped the alligator clips off of my tenderizer and wired in the plug. (I know it isn't soldered and heat shrunk, i was just testing it out)
MAKE SURE YOU FIND GO POSITIVE TO POSITIVE AND NEGATIVE TO NEGATIVE! NOT DOING SO WILL FRY YOUR TENDERIZER, POSSIBLY HURT YOUR BATTERY, AND THERE'S ALWAYS RISK OF FIRE!
And voila now you can pull into your garage, plug her in and never worry about a dead battery again.
On to pictures.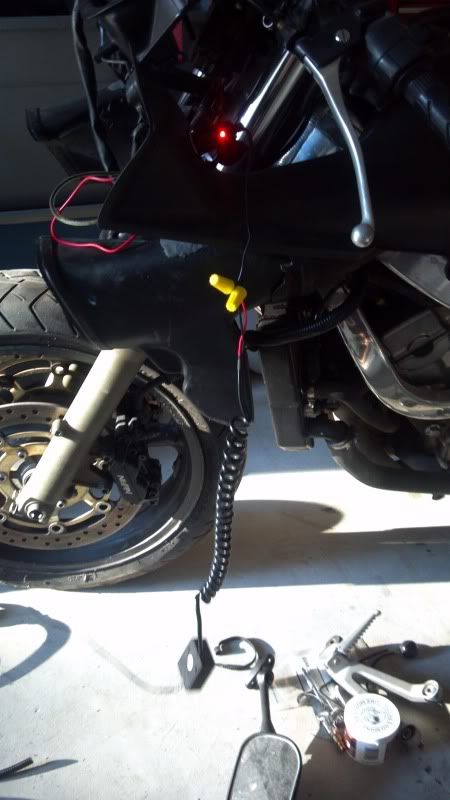 Brown heat shrink is my connector on top of the existing connector. So clean :-)
Location of my fuse. Close to the battery.
As always feel free to chime in with anything I forgot.
Thread
Thread Starter
Forum
Replies
Last Post