Adjustable Tag Bracket for DIYers- HW included
12-09-2008, 11:25 AM
Adjustable Tag Bracket for DIYers- HW included
---
For undertail exhausts. My project time: 1 day, but only because I didn't have the drill bit I needed and I designed as I went along. Actual time with all the right tools: an hour or two.Take note, I did not install any lighting, but this is an easy job if you need to LED it.
I bought a BLACK Home Depot Adjustable hinge (from the kitchen/door hinge aisle) 2 for $2.79!!!
Now for pics as I went along. I used pencil to mark the drill spots. Unfortunately, because I have a Yosh pipe, the exhaust bracket was not an easy task to remove. On top of that, I have a CA tailight which because I had to move the rear cowl out of the way to reach the subframe bolt to remove the exhaust bracket, dislodged itself. Wasn't a big deal to put back together...
The hinge closed and open to show you. The hinge is tough to move, but adjustable. If you want it solid in one spot, throw some crazy glue in the hingle part after it's installed and adjusted to where you want it.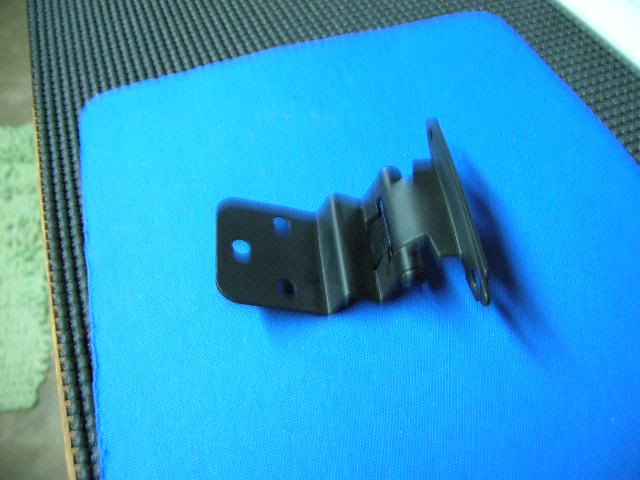 Screwing the subframe bolt/exhaust bracket back in. This is the source of my cut up hands.. OUCH. Be careful.
and BAM you're done! All for a cost of $1.34!! WOOT!
12-09-2008, 11:44 AM
RE: Adjustable Tag Bracket for DIYers- HW included
---
Nicely done Andie...the exhaust bracket is a pain in the *** with the Yoshi's. That's a clean install [sm=smiley20.gif]. The LED's are easy to wire up into your running lights, I have the color codes for the wires if anybody needs them. I'd even hacksaw of the back of the bolts to clean it up more.... but I cheated and bought the Tripage version.Easy for me to say
I"ll hire you as my mechanic
12-09-2008, 01:15 PM
Join Date: Nov 2007
Location:
Posts: 513
RE: Adjustable Tag Bracket for DIYers- HW included
---
wow looking good, i tried to rig one up myself on my old bike, it didnt look anywhere near that good. great job. I think i might even do that to my current bike as my plate is above the rear hugger and the cops have hassled me in the past about it.
p.s those nails are deadly
12-09-2008, 01:40 PM
RE: Adjustable Tag Bracket for DIYers- HW included
---
You know- I was thinking if you guys can't find them at your local HD, hit me up- I'll pick them up and ship em your way... It'll be like $3.50- just off the top of my head.

I also didn't use the screw hw it came with. I had used a screw with double nuts on the other end.



hehehehe I said nuts.
12-09-2008, 08:57 PM
RE: Adjustable Tag Bracket for DIYers- HW included
---
Wow ~ nice job! Next time you find yourselfon a toll road with no money, just flip it up and drive on through. Lol

Get yourself a Dremel (Holiday gift) for those bolts. I can't imagine life without one.
Also that license plate bracket could use a wire-brushing & paint. imo