Intro: Bakerbuilt Garage/ First Bike
07-08-2016, 02:51 AM
Join Date: Jul 2016
Posts: 3
Intro: Bakerbuilt Garage/ First Bike
---
Ive been working on Honda's and Acura's for some time now, building some absolute beasts. I finally convinced the wife to let me get a bike! I figured I'm still building my car ( 01 S2000) so I wanted something to enjoy in the meantime. I'm currently in the Navy ( active) witha little over 5 years in. I get out in September, my rate is MA (Military Police). A coworker mentioned he had a bike he'd be interested in selling, I ran it by the wife and got the green light so here we are. Its an 04 F4i with 20k miles. The guy that had it did nothing but change the oil, but he barely rode it. SO me being the kind of person I am got to work on all the maintenence that had been neglected. This is the first bike I have worked on or owned but I'm pretty damn mechanically inclined. Ill attach pictures of work I've done on a few cars as well.
First things first, WhatI have done so far:
Oil/Filter change ( Mobil 1, K&N)
Cleaned the **** out of the chain and bike
Lubed the chain
Lubed the clutch and throttle cables
Brake pads front and rear EBC Front/Galfer Rear (Both Sintered)
Replaced the broken front mirrors
Flushed front and rear Brake fluid
Changed spark plugs
Installed Ram phone holder
Fuel system cleaner
To do/ Parts ordered list:
Change rear taillight( from Ebay to Motodynamic Integrated LED)
Shorty levers
Flush coolant/ change thermostat
Install lower Temp Fan switch
Install LED's into passenger footpegs (Running,Brake and Signal)
Install HID headlights (High and low beam)
Install gear shift indicator ( I dont know why, I just wanted it)
Install K&N air filter
Future mods:
Paint fairings and tank (not a huge fan of yellow)
Ditch the seat for a split seat( my wife likes riding and wants a small backrest so I'll fab something up)
With that being said if there is anything maintenence wise i missed feel free to chime in!
On to the pics:
Fairing Damage
Maintenence
---
Last edited by BakerbuiltGarage; 07-08-2016 at

10:40 PM

.
07-08-2016, 10:30 PM
Join Date: Jul 2016
Posts: 3
---
Other Cars I've Built/Worked on:
My old 600hp Civic I built/painted bay ect.
My Current DD ( when I'm not on the bike)
An Integra Type R I did a complete Engine/trans rebuild on:
[IMG]http://i30.photobucket.com/albums/c302/NewCb7Tuner/Mobile%20Uploads/IMG_0517_
[IMG]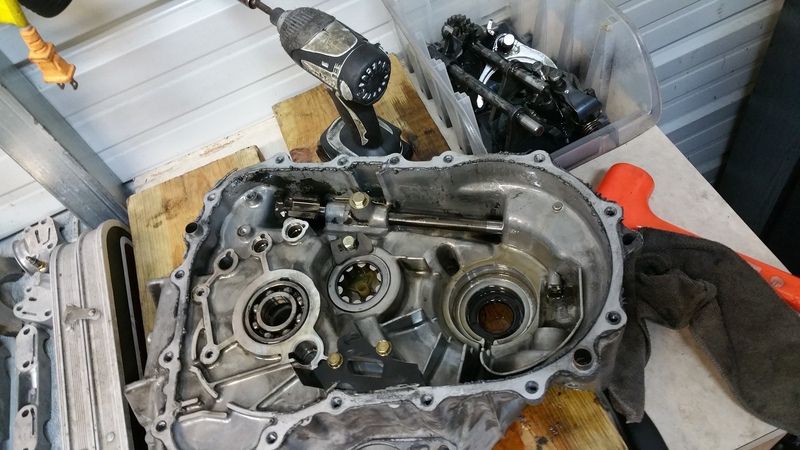 My Project car (800+ whp S2000)
Shaved and painted the bay:
K24 Integra I painted the bay on and built:
before and after
Wiring on the swap
Same car after I painted the bay
Other misc cars I've worked on/Wired/Painted/Built Ect.
---
Last edited by BakerbuiltGarage; 07-08-2016 at

10:41 PM

.
07-10-2016, 02:38 PM
Join Date: Jul 2016
Posts: 3
---
It couldn't be any harder then a timing belt on an Acura NSX, or a Charge,Inlet pipe, Intercooler, Fuel pump an Fuel injector Install on an R35 GTR. Those were pretty time comsuming jobs the first time. lol
Thread
Thread Starter
Forum
Replies
Last Post