Finally did my shorty exhaust
11-20-2010, 03:28 PM
Join Date: Aug 2010
Posts: 213
Finally did my shorty exhaust
---
Well i got bored yesterday and decided to go ahead and cut dowm my exhaust. I cut 6 3/4 inches out of it. It was extremely easy to do since the packing was actually wrapped in plastic so it stayed together. The hardest part was trying to use a hack saw on the perferated tude without a vice. anyway on to the picture. I only got one I forgot to take a before picture since i was so excited to finally start doing it. It looks and sounds awsome. Oh and props to Sick97SS for the how to which is what i used to help me do mine.
better picture
video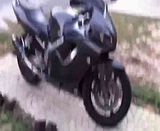 Tell me what you guys think.
---
Last edited by Jay_J; 11-22-2010 at

05:16 PM

.
11-20-2010, 05:54 PM
Join Date: Aug 2010
Posts: 213
---
I'll try and get a better pic tomorrow. I went for a short ride after. Didn't notice much. It seems like it does but it could also just be the sound it makes. I'm remapping my PCIII soon so maybe I'll notice it then. Oh it's a Scorpion slip-on.
---
Last edited by Jay_J; 11-20-2010 at

06:27 PM

.