Aurora F4i Build
07-11-2011, 01:15 PM
Join Date: May 2011
Posts: 66
Aurora F4i Build
---
I have your classic story. Bought the bike, thought I could handle it based on my experience riding my CB350, downed the bike. Originally, I wanted to re-do the bike and now I am very motivated due to the spider cracks and road rash paint (mainly on the opposite side of pic, but not that bad). So here we go:
Here is how she stands now:
Here is my plan:
I plan on wrapping the tank in carbon fiber (thanks to the forum for that one), plastics flat black with gloss black wing decal, HIDs and various other little goodies. The majority of the parts are in the mail as I type. Just wanted to see what you guys though. I will post build pics along the way. Thanks.
---
Last edited by aurora_F4i; 07-11-2011 at

01:38 PM

.
07-11-2011, 04:54 PM
Join Date: May 2011
Posts: 66
---
I am a fan of the all black look, it's an acquired taste. Flat and Gloss black really pops you have to see it to really appreciate it.
I was talking with one of my friends who has been riding for a while and he commented on the safety factor of the all black bike. Front and rear I think I would be good with the lights, but to cover the side, especially for a turn, I am thinking cutting the HONDA logo out of red reflective vinyl.
07-11-2011, 08:07 PM
---
If you want me to be honest I don't like it.. But then again like the white and red scheme.. Murdered out just screams that the bike has been dropped like a hot potato a few. Times.. It's your bike, not mine.. But you asked
07-11-2011, 09:38 PM
Join Date: May 2011
Posts: 66
---
It is all black and little bit of white.
Its funny you mention, all black means its been dropped, well it has. By the previous owner and by me. I know I dropped it about 30mi (not fun). But to be totally honest, I like the all black, that's pretty much what I wear. I am am your typical tatted up guy who wheres all black attire, so it matches. I would have done this to a bike undropped to, just saying not trying to start something.
Here was my Jeep I am kind of modeling it after, done in all black that I just sold to by the bike.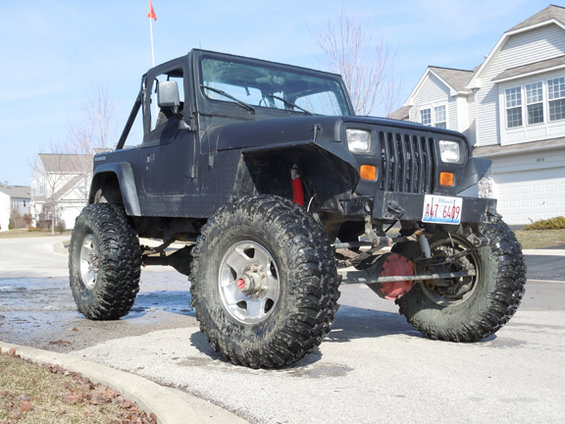 And old bronco...see the pattern