2 questions, windshield and exhaust
04-13-2012, 09:15 PM
Join Date: Mar 2012
Posts: 143
2 questions, windshield and exhaust
---
1. Is it possible to take off the windshield without removing any fairings or anything else?

2. I rode an 07 gsx 600 the other day, completely stock, with the short stock exhaust. And as soon as I hit the powerband (3-4k) that exhaust started rumbling and screaming like no other, atlteast not like my stock exhaust long pipe f4i.
For anyone that knows what I am talking about, how can I get this on my f4i?
Will anyother aftermarket exhaust do something like this? Or is there a special exhaust( the short ones similar to the gixxers stock pipe ) that I would need to get? Also if I get a different exhaust I would need to remap the bike right?



Thanks guys!!!
04-13-2012, 09:31 PM
---
All you have to do is unscrew the 6 or 7 bolts around the windscreen and you can take it right off, nothing else has to be touched.
For your exhaust consider cutting the muffler in half to shorten it. Itll certainly get a lot louder and itll be free, only takes about an hour or two to do. Your best bet would be to just buy a slip-on and if you want something with a real rumble id go with the new version of the two brothers. I got one off an 08 gixxer and had my buddy weld the end of my jardine f4i midpipe onto the two brothers midpipe and it fit like a glove and sounded awesome. Just go on youtube and search f4i exhaust and find something that sounds appealing to you.
Real quick vid of the two brothers on my f4i....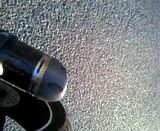 04-13-2012, 09:33 PM
Join Date: Nov 2011
Posts: 430
---
Yea you can take off the windshiled w/o removing the plastics, just take out the screws that hold it on and pull it off. For 2 you can put pretty much any exhaust on the bike if you can rig it up, I think I just saw one on here that had a gsxr pipe on it and you shouldn't need a remap w/ it.
04-13-2012, 09:51 PM
Join Date: Mar 2012
Posts: 143
---
so thanks for the windshield answers, I was just scared of how I would remove those 2 behind the dash.

about the exhaust, when they say slip on I am assuming most will need to be welded on? Or do they have bolt on exhausts? Would it be worth it to get a full exhaust pipe or just the slip on?
04-13-2012, 09:58 PM
Join Date: Nov 2011
Posts: 430
---
It really depends on what you get, I think most slip-on's just bolt right up and have some springs to hold the muffler on the mid pipe. If you go w/ a pipe from a different bike you may have to rig something up to hold it in place, either clamps or welding.
04-14-2012, 03:06 PM
---
well a slip on you can just....slip it on...and be done with it and enjoy the new sound and look. A full exhaust usually requires a remap and is going to be more expensive obviously but you should see a small power gain too. There arent too many full systems out there for the f4i and its pretty unnecessary too. Just stick to a slip on and youll be more than happy.

Like chambers said, if you buy an f4i slip on you can have it installed in like 10 minutes, you just have to unbolt the stock one and put the new one on, simple. But if you find a used slip on for a good price thats from a different bike (like i did) it will more then likely require some type of bending, cutting, and/or welding.

As i mentioned, the shape of the two bros gsxr midpipe i got was very similar to my f4i's but the end was too big to bolt up to the header so i had a friend cut it off and weld on the end of my f4i midpipe. You can even just bring whatever you get into a muffler shop and im sure they can get it to work for around $50 at the most.

It all depends on what you get, if youre going new then just get a f4i specific model and youll have nothing to worry about. If youre going used and cant find anything you like in your price range for your bike then start looking for ones for other bikes cuz the mufflers are all the same its just the shape of the midpipe thats bike specific so that it fits on there properly.
Thread
Thread Starter
Forum
Replies
Last Post