View Poll Results: ROTM February 2014
JNSRacing
38
57.58%
dStuck900rr
4
6.06%
CJardine
4
6.06%
Mattson
20
30.30%
Voters: 66. You may not vote on this poll
February 2014 ROTM voting thread
02-14-2014, 08:48 PM
February 2014 ROTM voting thread
---
Welcome to the voting thread for February 2014.
Everyone can vote in the poll, but only contestants and staff are allowed to post on this thread. Posts made by anyone else here will be deleted.
Contestants are encouraged to put up pictures and write-ups of their bike here.
Please do not pimp votes in the new member area. The off topic and other bike forums are the more appropriate place for it. However, a mention to vote in your signature line is permitted anywhere on the forum.
Only 1 vote per member is allowed.
Good luck to all of the contestants!
Here are the the nominees:
JNSRacing's F2
dStuck900rr's 900rr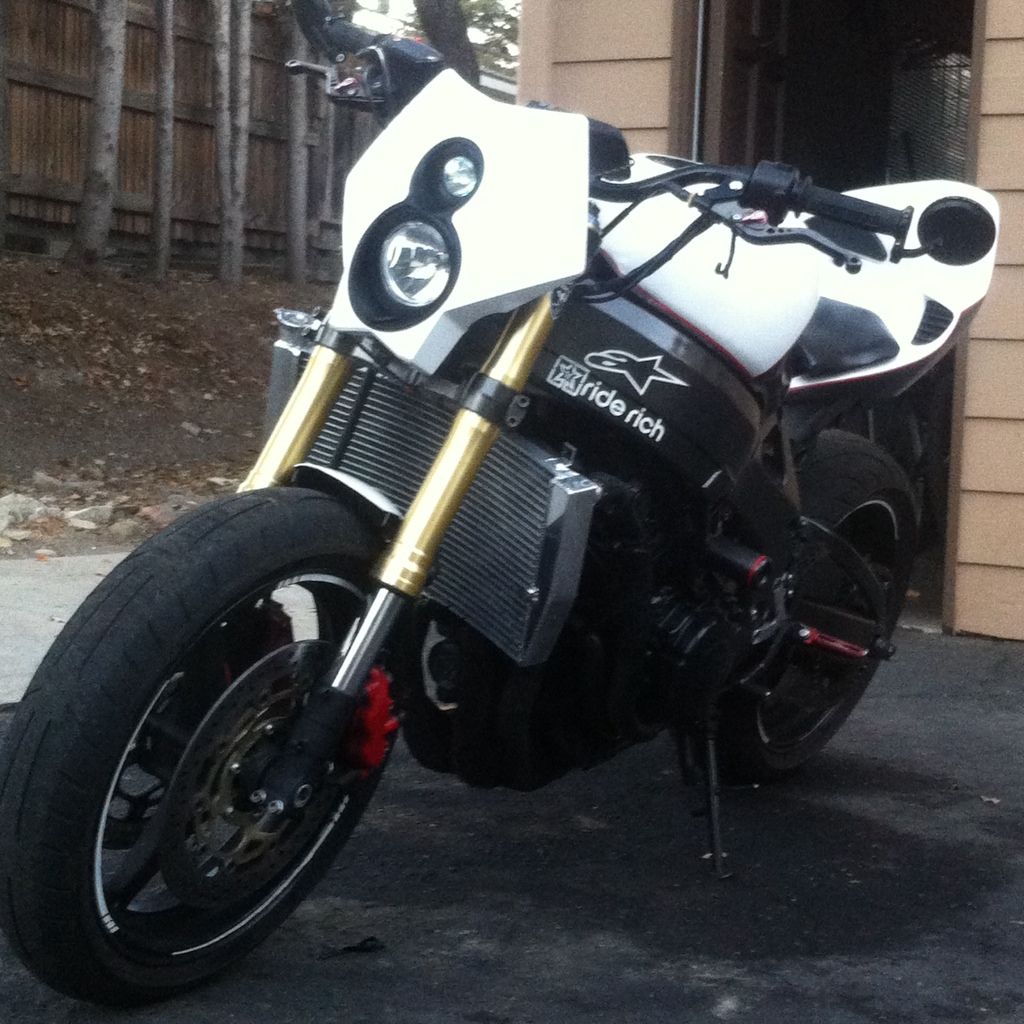 CJardine's F4
Mattson's F2
If anyone would like a different pic on this post, PM me and I can change it.
02-14-2014, 08:51 PM
---
First, Good luck to everyone!
I am a Mechanical Engineering student so in reality, I can't imagine when I will be truly done with this bike; I love working on it and I love refining it. It may never be the prettiest or the lightest but it will be mine! Because of this the project has become a labor of love and a test to my abilities and imagination. This bike is very much a product of my imagination, as well as this forum's, it is displayed by the amount of time and effort the community puts back into itself. Some of the more notable things in my mind are the Jardine Full System Exhaust, CBR1000rr forks with Traxxion cartridges, CBR600rr swingarm with an Ohlins shock, and the RFID Ignition and alarm. I absolutely love the fairings. I got them from sharkskinz and the local bike paint shop hooked me up with the silver and red the colors are silver flake and "blood red," either way I love them! Here are the more interesting things on the list of what I have done to the bike.
Things that are done:
F4i Split Seat Conversion
Flush Mounted Turn Signals
Ram Air Vent Turn Signals
BMC Race Air Filter
Ape Manual CCT
Wrap gas tank in Carbon Fiber
Pair Valve and Emissions Removal
Iridium Spark Plugs
Ohlins rear shock
1/4 turn gas cap Black
Woodcraft Rearsets/clip-ons/ Sliders and guards
CBR1000rr Front Suspension
Spiegler SS Brake lines
RFID keyless Ignition
ASV C5 Levers
Koso RX-2n Gauges
Yoyodyne Race Throttle
Full System Jardine Exhaust
Sorai Battery
Radiator screen
Sharkskinz Race and Street Fairings.
600rr swingarm,
ebc rotors
ohlins damper
CF Front and Rear huggers
Scotts SS Oil Filter
Gilles TECA chain adjusters
Factory Pro Ignition Advancer
Factory Pro Shift Star
Factory Pro Stage 3 jet kit.
Rizoma Proguard Brake lever Guard.
Carbone Loraine Brake Pads
Traxxion AK-20 Fork Cartridge Kit.
Scorpio i-900r alarm
Tank foam
I'll Post more detailed photos tomorrow when I can take a ride down to the beach
How she was when I first got her. Almost every bolt was rusted in and corrosion was destroying the rest.
Stripping it down and cleaning every nook and cranny
How she sits right now.
---
Last edited by CJardine; 02-14-2014 at

09:18 PM

.
02-14-2014, 10:51 PM
---
This is my street F2, and if anyone is interested in seeing all the work that has gone into it, check out my Phase 2 thread in my signature, but I'll give a "quick and dirty" synopsis.
This bike started it's life with me looking like this - bent forks, bent clip-on, bent subframe... rough all around.
Started tearing it down.
Polished the stator cover, top triple clamp, and OEM rearsets.
After polishing the rearsets, I did further work to them, to give them a more sporting, more modern look.
Replaced the bent fork stanchions, and rebuilt the forks, installing stiffer Race Tech liner rate springs.
Straightened the subframe and installed fender eliminator.
Repacked/refurbished/resurfaced the Two Brothers muffler that came with the old full exhaust set, taking it from this:
To this:
Getting started with fairings and new ZG windscreen.
Blah, blah, blah, this that and the other, and below is how it's looking at the moment... it is far from done, but I'm happy with the progress thus far.
I thought I'd add another angle pic, but in better light.
* Repsol replica bodywork
* Zero Gravity SR Windscreen
* Two Brothers race header
* Shortened, refurbished, and polished Two Brothers muffler
* UNI filter & carbs jetted/tuned for intake/exhaust mods
* Vortex race clip-ons with Renthal Kevlar superbike grips
* AFAM race sprockets with D.I.D. Erv3 chain
* Forks rebuilt with Race Tech .95 kg/mm springs installed
* Competition Werkes fender eliminator
* Vortex billet keyless gas cap
* Braided stainless steel brake lines front and rear
* Billet folding/adjustable levers with Repsol scheme
* Billet passenger pegs on modified OEM brackets
* Pro-Tek front M/C reservoir cover
* Polished top triple clamp and stator cover
* OEM rearsets drilled with countersunk holes and polished
* Lighter mirrors with more "modern" profile
* Modified OEM gauge cluster for lighter weight
* Hand grenade valve stem caps
---
Last edited by JNSRacing; 02-28-2014 at

02:17 PM

.
02-14-2014, 11:17 PM
---
Good luck guys.................it's a quality field.

Cheers, SB
02-15-2014, 01:59 AM
---
Well, now that the ´cane is out other peeps actually have a shot at this
So, a quick history then... I haven`t really done THAT much to my bike, I`ve already done more work to the Triumph and only scratched the surface...
The way it was when I started making the "race look", muffler`s from the opening sale of a local car parts emporium, a daft little experiment, sounded great but I have to admit it looked a bit goofy. Luckily I didn`t own a welding rig yet cause I would have tried to make a double sided system out of it.
The aux lights were a must as all F2 owners know the headlight is a bad joke and I had to ride 80km in pitch black backwoods roads every morning in the fall.
On the bench, rims are re-powdercoated and naturally new bearings and cush drive rubbers, probably the most work was in re-doing the tail.
There also were plans to make a triple projector headlight and I actually ordered and received the projectors already but the fiberglass mold proved to be more tricky to make that what I expected and it was put until later notice, which is when the Triumph was offered to me for peanuts so I couldn`t decline...
Current state. The exhaust hanger is modified from the original luggage bar, I cut the strapping bar and the footrest cradle off.
02-15-2014, 02:10 PM
Join Date: Oct 2013
Posts: 33
---
Hey everyone! I'm fairly new to here and honored to even looked at seeing as the streetfighter crowd isn't that large here.
But anyways about my bike it is a 96 CBR900rr. It has all been painted by me the two tone graphite metallic/ white with red pinstripping in between. It has the tail section, forks, brakes, and a wheel off of a 05 600rr. It has a ton of bits and pieces done to it such as a Trailtech X1 headlight mounted directly to the front forks, solo cowl rear seat delete, passenger pegs removed, Frame sliders, front fender cut down, dirtbike bars and mounts. Polished aluminum radiator (for an 05) that I think I'm going to change to black chrome, just running a glasspack slip on exhaust but I'm already planning on switching to a 05/ custom undertail exhaust. ( parts are in the mail... ). And current pipes are heat wrapped. Anyways here's a few pics. Sorry Some are before the new radiator....
02-20-2014, 09:18 AM
---
02-23-2014, 08:48 AM
---
Only a few days left. Get you votes in everyone!
02-28-2014, 03:05 PM
---
Nearing midnight here, anyone got 19 votes to spare?
02-28-2014, 05:54 PM
---
Nope but I do have 19 bottles of on the wall
19 bottles of beer ..................