Dan moto carbon gp
10-23-2013, 12:42 PM
Join Date: Oct 2013
Posts: 3
Dan moto carbon gp
---
Ok so I have a 2009 honda CBR600rr. I've been looking at exhausts and I've come across the dan moto carbon gp. I was wondering if anyone has out it on the 09 model. I've seen on YouTube other models like 07 and lower have it but I wanted to see what it looked like and also if I really need the O2 sensor eliminator.
10-31-2013, 12:26 PM
---
First, I don't have an 02 on my bike so I didn't need it. I got it in and it's a lot smaller than I thought it'd be. An actual fender eliminator and/or integrated tail light is a must. I love the sound, but I'm deffinately going to order another can and put them side by side to fill the tail better. And there was no bracket to support the end of the muffler, it came with a straight bracket that I had to bend with two opposite 90 degree angles. For the price I'm not too worried about it. Here's a few pictures and videos.
with the cat still in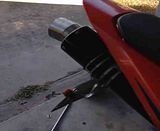 cat still in
with cat gutted (pain in the ***)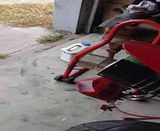 I ordered the integrated tail light for the 07 cbr, you have to cut the plastic under the seat to fit it but it looks a hell of a lot better than that stock ghetto rigged **** I have now, then I can put the plate back up under the tail and make it look cleaner.
---
Last edited by itlnF4I; 10-31-2013 at

12:37 PM

.
11-01-2013, 04:27 PM
---
I ordered the integrated tail light for the 07. It works for the 09 but you have to cut some plastic from under the seat. And I'll put the tag back up under the tail. It does sound louder and deeper with the cat gutted but damn it was a pain. I spent three hours beating that **** out. If I had to do it again I'd just take the headers to a muffler shop and have them cut it out and weld in a pipe.
Thread
Thread Starter
Forum
Replies
Last Post