Where the 750 Hurricanes truly the fastest of the hurricanes?
02-08-2017, 09:05 PM
Join Date: May 2016
Posts: 141
Where the 750 Hurricanes truly the fastest of the hurricanes?
---
Was doing a little watching and reading on youtube and saw some comments saying how the rare 750 hurricanes where much better running and faster than the 1000's or the 600's. Is there a link to any kind of info on them? I'm sure I'm not the first to ask about them, but a search isn't turning up anything on them.
02-08-2017, 10:26 PM
---
Opinion.

In a track situation

More HP than a 600 of it's day plus the lighter weight than a 1000 could, or maybe would, allow the 750 to enter turns faster than a 1000 and accelerate out of the turn faster than a 600 and then on average give it a better lap time than both.

So the argument could, yes be made, the 750 is faster?
---
Last edited by wooferdog; 02-08-2017 at

10:29 PM

.
02-10-2017, 04:42 PM
---
Occasionally one will come up on E-bay, here in the UK.
In the real/practical world, engine parts might be difficult to find. Also most of the time we're not riding on the track.
If memory serves, they were made primarily for the Japanese market, though I stand to be corrected
02-10-2017, 07:41 PM
---
not forgetting the CBR750F's biggest asset.....................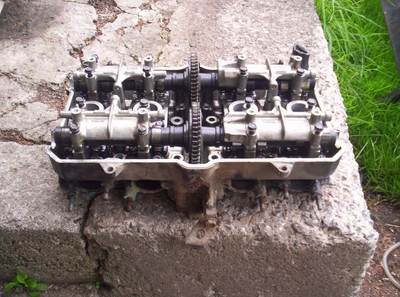 Gear driven cams...............
I get soooooooooooooo excited! Funny isn't it? I was just this morning thinking about CBR750Fs on the way home from collecting a bookcase.
Cheers, SB
02-10-2017, 09:08 PM
Join Date: Dec 2016
Posts: 84
---
I have my doubts that the 750 was faster.

You only have to have a look at lap times at the local tracks to see who is faster.
Over here, even on one of the tightest tracks that bikes race on (levels raceway) the 1000cc bikes are around 2 seconds a lap faster than a 600. That might not sound like a lot, but keep in mind that this is a very short track, very tight and twisty, with only a relatively short straight. 2 seconds a lap is a long time over a 5-10 lap race.
I am talking about comparing outright la records for each class, not an arbitrary 'that guy on a 1000 is faster than that guy on a 600' type comparison.

Things might have been different back then though, as the limitation was probably the handling, for which there has been significant development on over the last 20 years.
02-11-2017, 01:26 PM
---
Oh Wow!
Yes, I'd forgotten about gear driven cams! Well done Seb.
In my opinion, if the 1000F had gear driven cams, it would be perfect.
Thread
Thread Starter
Forum
Replies
Last Post