Petrol Stained Screen
08-13-2018, 10:12 AM
Join Date: May 2018
Posts: 25
Petrol Stained Screen
---
Hi guys, random question sure to get you guys thinking.
How to remove petrol stains from the fairing screen on a bike?
Had an issue a few months ago where I'd trapped the tank breather and the tank was pressurising constantly, even with the bike turned off. I mistakenly opened the fuel cap after leaving it for a whole 5 minutes and the fuel practically exploded out of the cap, soaking the tank, dials, the cigarette I was smoking, the clothes I was wearing and most importantly, the inside of the screen.
I've tried everything I can think of (in no particular order); WD40, Brake Cleaner, T-Cut, some weird hob cleaner thing my dad has for cleaning the glass hob on his oven, Muc-Off bike cleaner, very fine wet & dry sandpaper.
None of the above have worked... The screen itself looks pretty damn clean now (can actually see though it now) but the staining remains. Imagine pouring brake fluid on the screen and it running down towards the vent, burning into the perspex, that's the look its' got and it's pissing me off.
Any thoughts or advice (other than don't get petrol on the screen)?
08-13-2018, 11:45 AM
---
Sounds like the problem is that the petrol has eaten into the plastic, rather than just a stain.
I was going to suggest wet sanding and T-cut, but you've already tried that.
I know it's not what you want to hear, but it may be time for a new screen
08-13-2018, 12:13 PM
Join Date: May 2018
Posts: 25
---
Yeah that's what I was thinking, had to drill a few cracks while I was cleaning it to stop them growing so think it's time to dig around on eBay for a reasonably priced replacement (I'm not willing to spend over £100 on a new one)
08-14-2018, 07:43 AM
Join Date: May 2018
Posts: 25
---
Found a site online called HPS that do a variety of shapes and tints for all year CBR1000F's for a reasonable price (direct oem copy for ~£60 inc. vat) and found a touring screen for £74 inc. vat so I think I'll be buying one of those come pay day (has a larger lip at the top to deflect some of the wind over rather than into my lid like the standard one does).
I did want a double bubble but no one seems to do one for the CBR1000F (had one on my old RF900 and it was great at keeping the wind away from my lid).
08-14-2018, 09:43 AM
---
Here's a little chemistry lesson, when alcohol come in contact with plastic, it causes IGA (Inter-granular Attack). The grain boundaries of the plastic is corroded and washed away leaving a weak material that is susceptible to cracking along the lines of the depleted grain boundaries. If the fuel that made contact with the windscreen contained ethanol, that ethanol would be the source of the IGA.
I believe the so called staining is from the actual material loss along the grain boundaries.
---
Last edited by TimBucTwo; 08-14-2018 at

09:51 AM

.
08-14-2018, 12:14 PM
Join Date: May 2018
Posts: 25
---
Here's the screen from the front (staining isn't very visible)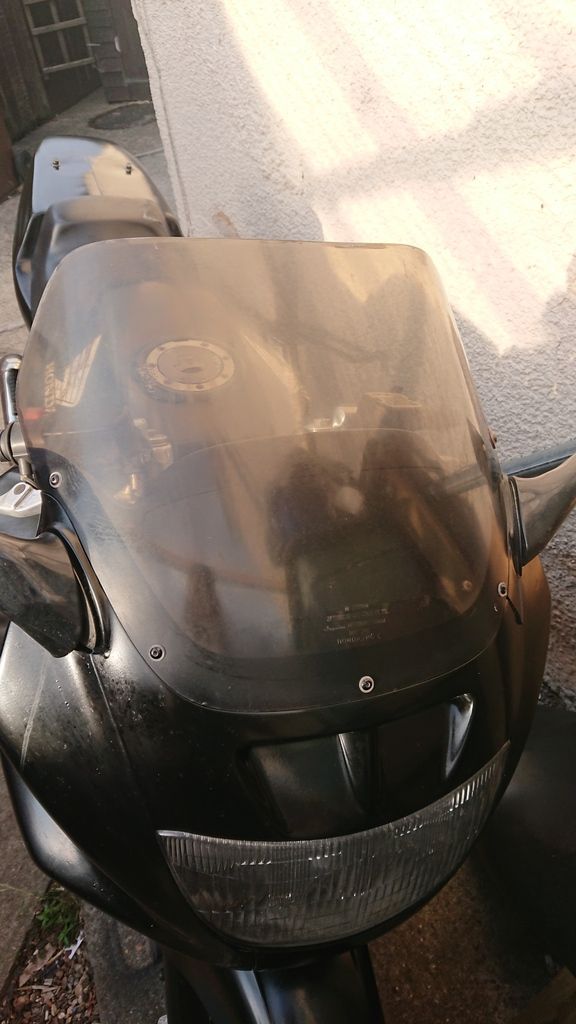 And the kinda-repaired cracks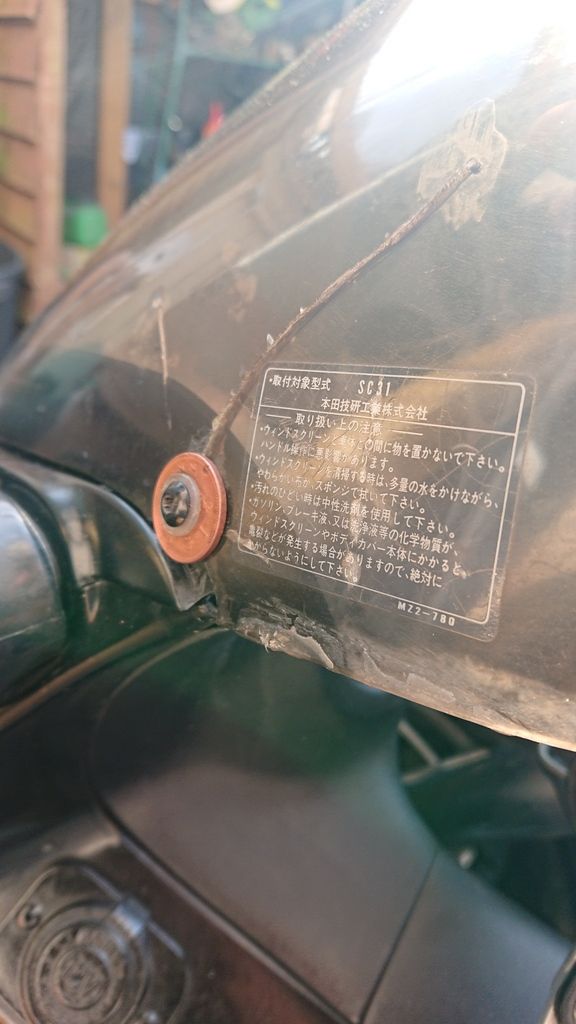 Just drilled a small hole at the end of the cracks to stop them growing and added a blob of industrial super-glue to fill the hole (just noticed I still need to scrub the excess glue off lol)
Now even the blind amongst you will notice the "penny washer" with a chunk of screen missing below it. At one point it was hugely overtightened and had cracked, then the next time it was undone (by me trying to find the hidden restrictor) it collapsed and became unrepairable (plastic dust was all that fell out) so found the largest washer I could with the smallest hole to bridge the gap, it just happened to be a penny (^ω^)
Thread
Thread Starter
Forum
Replies
Last Post