Need help quick, is this the speedo limiter on jap import 1000f?
06-01-2018, 10:47 AM
Join Date: May 2018
Posts: 25
Need help quick, is this the speedo limiter on jap import 1000f? *fixed, read more
---
Hi guys, been trying to sort my bike for a few days now. When I bought it it wouldn't rev past 5000rpm without bouncing off some sort of rev limiter. Whike looking for the "speedo limiter" I've read about on misc forums I found this: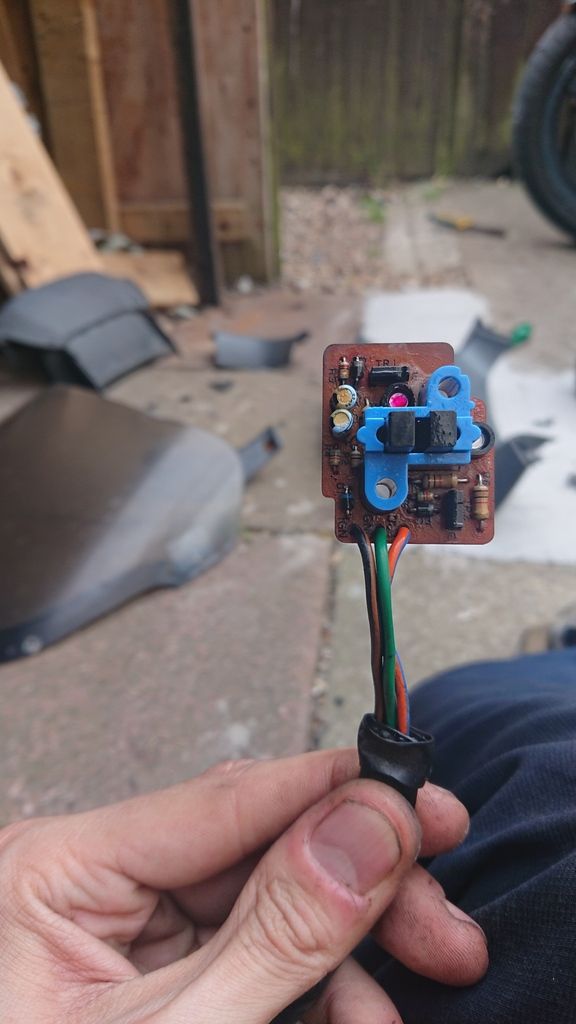 Could this be it and how do I go about disabling it?
---
Last edited by timothyg20; 06-03-2018 at

10:44 AM

. Reason: Fault fixed
06-01-2018, 01:37 PM
Join Date: May 2018
Posts: 25
---
I saw the same post and yours where you said about the taped up filter. Went searching for the wire to cut and couldn't see anything so had a look around for video's on the issue and stumbled across one where a guy had an import 400 with the same restricted rev problem and he pulled his speedo apart (180km/h speedo) and saw it sitting in there, along with what he described as a magnetic washer on the back of the speedo mechanism.
On my bike it was zip-tied in a not-so waterproof bag inside the right fairing.
Had a quick search online to find out if the magnetic sensor (two black posts in the middle of it) needed a permanent magnetic source to stop it restricting or no magnetism to work right. In doing so found a post on kiwi-biker or something saying "...yeah we get loads of jdm imports (cbr1000f) over here, I've always just found the 3 pin connector under the clocks, cut the brown/black and orange/blue wires and wire them together to fool the ecu into thinking that the bike is below the restrictor speed". He goes on to say that some add a 10kΩ resistor between them but he's never bothered and never had an issue.
For my issue it would rev up in neutral to redline if I wot it but if I eased it up the revs it would stutter like hitting a rev limiter at exactly 5000rpm and do the same under load while riding it. After wiring it as above I can confirm that (in neutral at least) the bike is revving cleanly through the range now. Haven't had a chance to go out on it yet as family time means no play time unfortunately, though I will be back and post again after I've gone out and given it a proper shakedown blast.
Anywho I hope this helps others with the same issue help to fix the stupid jdm restrictions.
06-01-2018, 01:54 PM
---
06-03-2018, 08:59 AM
Join Date: May 2018
Posts: 25
---
Ok I'm pleased to report that snipping and connecting the black/brown and orange/blue wires HAS removed the rev limit at 5000rpm. (^ω^)V
[email protected]
says the fix definitely worked (not bad for a 5-speed jdm lol)
06-03-2018, 11:41 AM
---
Originally Posted by
timothyg20
Ok I'm pleased to report that snipping and connecting the black/brown and orange/blue wires HAS removed the rev limit at 5000rpm. (^ω^)V
[email protected]
says the fix definitely worked (not bad for a 5-speed jdm lol)
Cracking result Tim